Details
Drasa, 03-Mar-2016: Cyclone Relief - Framesoft (Fiji) Ltd donates Aid Packages for 300 Households in the North of Viti Levu
FRAMESOFT (FIJI) LTD joined forces with its sister company TOTOKA ISLANDS LTD in order to help the households in the North of Viti Levu which were hardest hit by Tropical Cyclone Winston.
Clothes and Equipment for 300 households were donated. TOTOKA ISLANDS LTD took over distribution of the aid goods to the remote areas in the interior of the North of Viti Levu.
See also here for more information about the joint FRAMESOFT / TOTOKA ISLANDS Cyclone Relief Initiative.
Aid Convoy on its way to the North of Viti Levu around Ba and Rakiraki: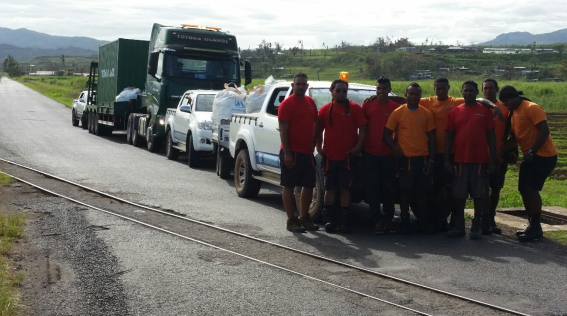 ________________________________________________________________________________________________________________________________
Details
Zug, 22. February 2016: Framesoft is very pleased to announce the introduction of its new solution Framesoft PRIIPs KID Generator (FPG).
Framesoft PRIIPs KID GENERATOR (FPG) is a software application that supports financial institutions to comply with the PRIIPs KID Regulation, which came into force in all EU member states on 29 December 2014.
From 31 December 2016, manufacturers and distributors of packaged retail and insurance-based investment products are challenged to provide Investors with a new type of document, the Key Information Document ("KID") in order to comply with the PRIIPs (

Packaged Retail & Insurance-based Investment Products

) KID Regulation ("REGULATION (EU) No 1286/2014 OF THE EUROPEAN PARLIAMENT AND OF THE COUNCIL").
FPG permits a PRIIP manufacturer to set up, manage and generate all required KIDs by virtue of FPG's template administration functionality. As well, the manufacturer can decide to "white label" the product KIDs and supply them to intermediaries, if so required and legally permitted. KIDs in general need to follow a number of rules and formatting prescriptions set out in the regulation. FPG is ideally prepared to cope with these requirements, as well as it is flexible enough to be updated and reconfigured in case of amendments to the regulations in force.
Framesoft PRIIPs KID Generator (FPG) covers the requirements as spelled out by the regulation conforming to Article 6, e.g.:
Header

with product name, required issuer information etc., taking into account market specific product names and corresponding language dependencies.

Product objectives

and the means for achieving them, e.g. by

direct or indirect exposure to the underlying investment assets,

description of the underlying instruments or reference values,

specification of the markets the PRIIP invests in etc.

Risk Section

"What are the risks and what could I get in return", including treatment of topics required by the regulation, e.g.

summary risk indicator

possible maximum loss of invested capital

appropriate performance scenarios

where applicable, information on conditions for returns and scenarios exemplifying risks

taxation statement

Language Compatibility

: Product KIDs can be set up such that translation into other languages can be performed on the basis of a single template.

Issuer Default Risk

Section covering all descriptive elements required by the regulation

Applicable Cost

Section in order to inform investors about the expected and potential cost of the investment

Recommended Holding Period

and Restrictions Section with applicable Subsections, as spelled out by the regulation
FPG provides easy copy & paste, as well as reusability of template sections where applicable or desired. A hierarchical Template Structure is supported by virtue of unlimited database support of template importing. At the same time, all future reviews & amendments of the regulation can be quickly realized using FPGs powerful editing tools.
FPG has been built upon the solid foundation of Framesoft Structured Products (FSP), which provides the complete tool set for defining & treating Structured Products Issues.
For more inofrmation please refer to Framesoft PRIIPs KID Generator (FPG) or contact us via This email address is being protected from spambots. You need JavaScript enabled to view it..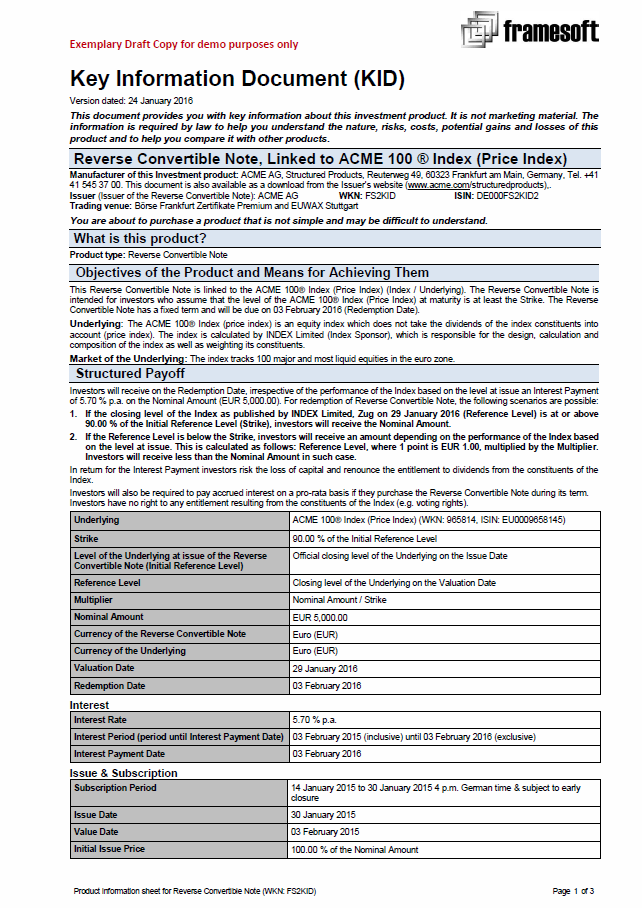 Details

Zug, 18 February 2016: Framesoft will exhibit at FINTECH Asia 2016 (http://www.structuredretailproducts.com/fintech).
The conference will take place in Hong Kong on 21st April 2016. Framesoft will present again its full range of solutions to the Asian Financial Services industry. Especially, the Framesoft solutions
will be the main exhibiltion targets.
Framesoft solutions are focusing on:
eliminating Operational & Legal Risks,

increasing Efficiency & Transparency of Buiness Processes and

Cutting time-to-market for new (financial) products
We are looking forward to your visit at our booth on the FINTECH Asia in Hong Kong on 21st April 2016.
Details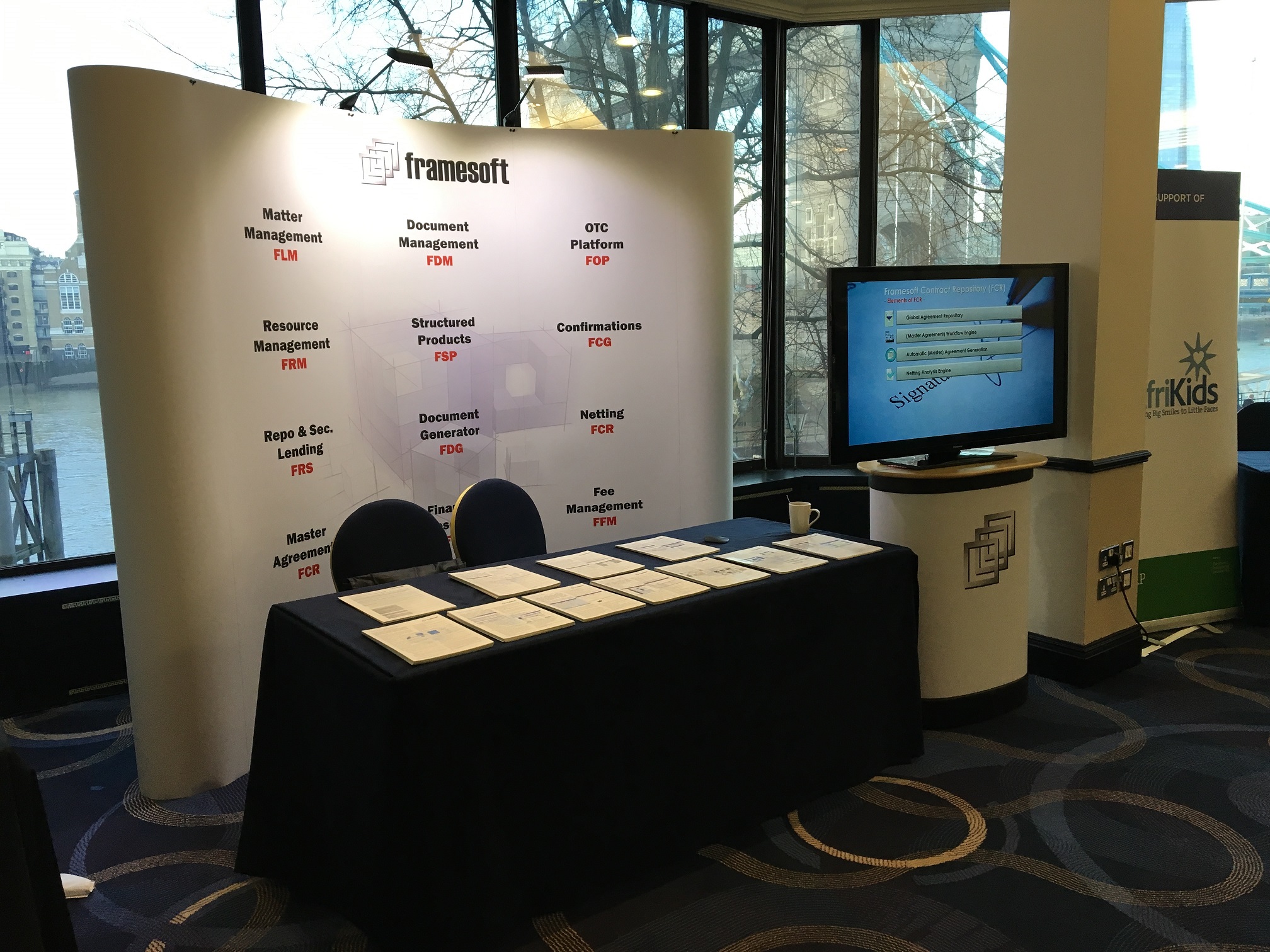 London, 12 February 2016: Framesoft exhbited at the 13th Annual European Structured Products & Derivatives Conference 2016 (http://www.structuredretailproducts.com/events). The conference took place in London on 11th and 12th February 2016. Framesoft presented its full range of solutions to the European structured investment products industry. Especially, the solutions
that support financial institutions in the process of engineering & issuing derivatives products and generating all necessary documentation were in the main focus of the conversations.
Details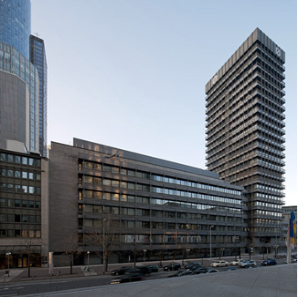 Frankfurt, 30. November 2015 - a new FSP Release has been deployed to one of the world's largest investment banks.
The new FSP Release Version 7.7 provides the following newly configured and extended functionalities:
BaFIN Base Prospectus upgrade
Introduction of an additional european new target market for issuances set up on mass product basis using FSP's multi language capabilities
Upgrade of exchange interfaces in order to extend the support for automatic issue upload
Enhancements of the private placements issuing proccss by provision of additional Final Terms documents
Improved Reporting functionalities
The planning of the upcoming FSP Release 7.8 scheduled for spring 2016 has already been started.