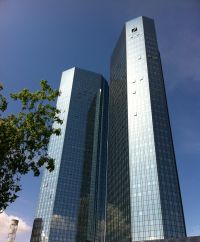 Frankfurt am Main, 31 March 2012: One of the world largest Financial Institution went live with the new version of Framesoft Structured Products (FSP). The latest FSP Release extends the existing securitized structured products issue workflow by a complete internal approval process via FSP's Web Client.
Furthermore, additional automatic document distribution routes and data interfaces have been provided as well. The new FSP Release will now include Legal, Sales and Trading departments in the approval of the created documentation. Incoming XML streams are evaluated such that tasks are assigned automatically to responsible users and user groups of the respective issue at hand.
Furthermore, a matrix mechanism has been deployed and configured for the administration of product type and market dependent documentation and distribution.
In a nutshell, this mechanism maps the attributes of the incoming XML stream of new issues onto a matrix of applicable documents to be generated and channels to be used for their distribution. This permits the organization to achieve a seamless integration of changes or even further business cases and products into the existing workflows.
A number of additional export formats have been defined as well, in order to transfer data or the finalized, approved documentation automatically via e-mail or queues into other systems or to the stock exchanges for automated listing applications via XML interface.