Framesoft Confirmation Generator (FCG) supports financial institutions in the process of the configuration, production, management, and administration of legally binding trade confirmations (short or long form) for for all kinds of financial instruments (e.g., Over-The-Counter financial instruments such as interest rate, credit and equity derivatives, repo, and securities lending, etc.)
FCG supports the complete workflow associated with generating, adapting, and releasing of confirmations. Confirmations can then be dispatched automatically by various delivery channels.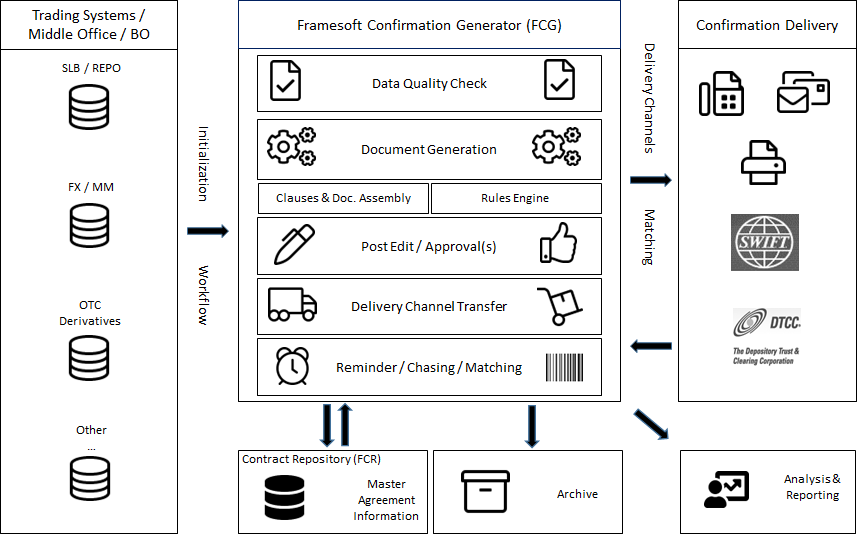 Main FCG Functions
Complete Workflow Support in generating, adapting, releasing and automatically dispatching confirmations via various channels.
Transparency of workflow & Task Status - usage of different working / process lists provide an overview of the confirmations process and its status as well as allow manual intervention where required
To-Do-Lists for actions to be taken before dispatching the generated confirmations, e.g., editing, signing / approval / sign-off / resending can be configured

Watch-Lists

for tasks related to matching incoming confirmations & tracking the chaser processes

Data & Documentation based task definitions & execution

based on organization specific and configurable workflows

Long Term vs. Short Term Confirmations -

based on received trade & counterparty data the availability of required data & valid master agreement is checked to generate a short or long form confirmation

Matrix management

of mandatory & optional documentation and its approval as well as distribution channel dependent on process / product type

Approval process management

including insertion & versioning of additional, externally created documents into workflow

Complete audit trail

allows the location and status of a confirmation in the workflow process at any given time

Highest

Straight through Processing

(STP) levels via provision of complete data model & integration into existing corporate infrastructure

Real-time interfaces

to Client's Middle / Back Office or Trade Systems guarantee secure automated retrieval of confirmation critical trade & counterparty (CP) data

Standard interfaces

to trading, middle-office & legal systems & report generation allow the export of detailed information such as outstanding trades by counterparty & days, or trades not referenced by a master agreement

Secure counterparty specific dispatch of confirmations using

real-time interfaces to client's fax / e-Mail server, Web Sites or Message Channels such as SWIFT / DTCC / SMS

Easily configurable interfaces

by using advanced configuration tools based on standard technologies l(e.g., XML or SQL-based two-way data exchange)

Data Consistency and Integrity Checks

are applied

Confirmation matching

via FCGs Scanning Solution (including bar code)

Framesoft Document Assembly (FDA) integration

Multi language

support

High speed product management

& related clause creation and document / template assembly

Complete Archive

- all confirmations & associated documents are stored & archived in the underlying database

Extensive Reporting Capabilities
Framesoft Data Insight (FDI) integration
Access to document history / versions
FCG is seamlessly / tightly integrated with Framesoft Document Management (FDM) allowing the automated archiving of generated documentation.
Contact us at This email address is being protected from spambots. You need JavaScript enabled to view it. or +41 41 545 37 72 to see Framesoft Confirmation Generator (FCG) at work via online demonstration.