Details
Zug, February 3, 2022: Framesoft is pleased to announce that a major European Financial Institution decided to license Framesoft Data Insight (FDI) as its universal data platform analysis & reporting tool.
FDI will be fully integrated in Framesoft Contract Repository (FCR) to extent its reporting & analysis capabilities or can be accessed via browser.
Furthermore, by connecting to internal and external (cloud based) applications FDI directly retrieves data to support the clients decision processes in real-time.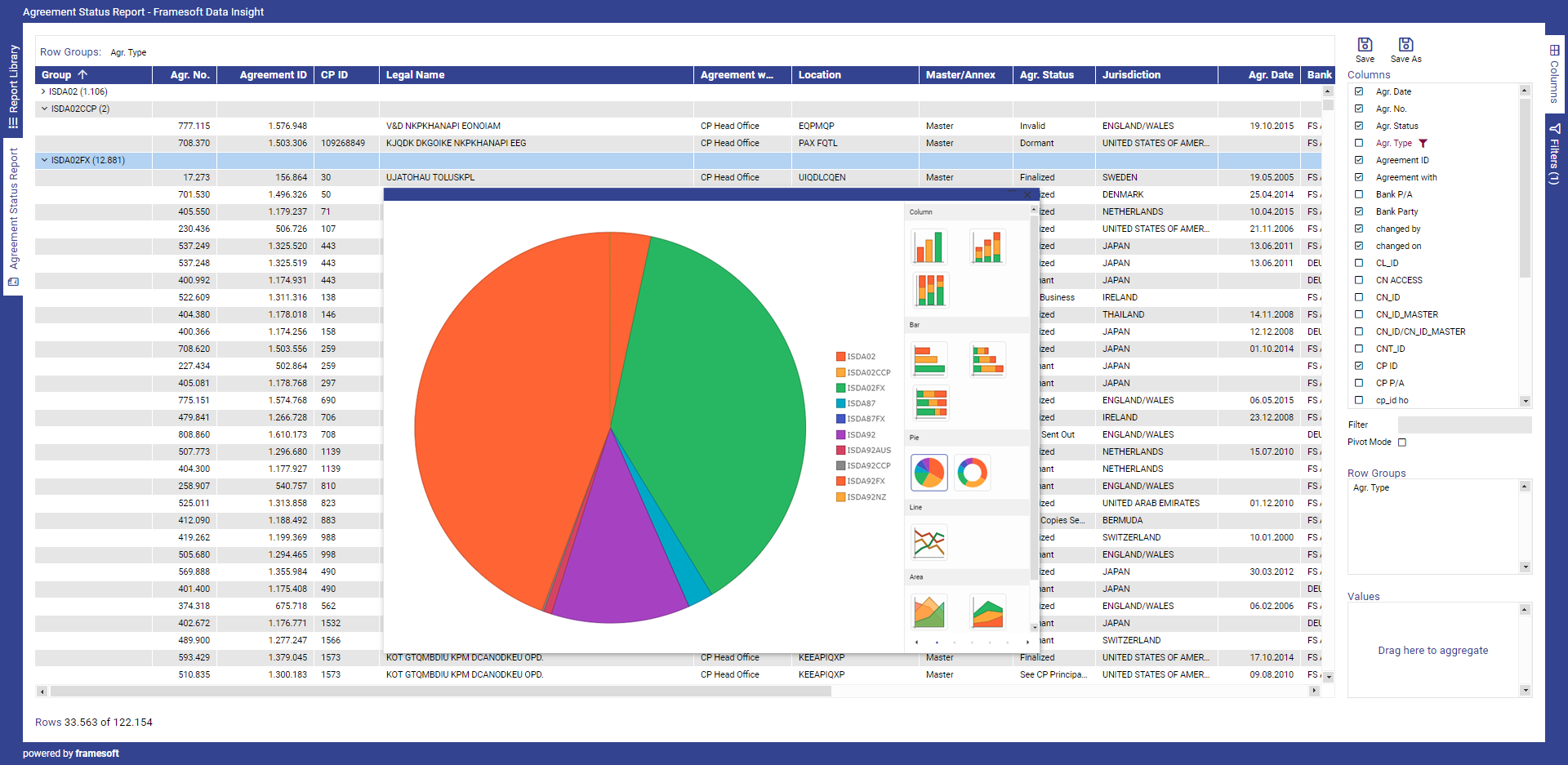 Data retrieved from any source is automatically transformed into business views and made available in FDI. Business views (from all sources) can be connected in FDI via joins which support navigating through your data silos / universe and extracting
the deepest insight from your data. Business users can analyze the data on demand with no infrastructure setup and no time-consuming transformations, pre-processing, or metadata management.
FDI users are offered an intuitive, universally accessible, and flexible toolset to analyze data, configure and execute required reports and data visualizations (dashboards) on the fly. FDI also provides a report library, where users can store and publish their reports. The integrated chart engine allows displaying and providing report results as graphical interpretation.
Data can easily be filtered, grouped, summed, averaged, etc. and displayed in a "Pivot" table according to user-defined row and column criteria.
For more information, please contact us at This email address is being protected from spambots. You need JavaScript enabled to view it. or call us at +41 41545 37 72.
Details
Zug, July 31, 2021: Framesoft Protocol Adherence (FPA)
Adherence to protocols eliminates the necessity for costly and time-consuming bilateral negotiations.
Framesoft Contract Repository (FCR) tracks adherences to protocols on counterparty and agreement level with the newly introduced "Framesoft Protocol Adherence (FPA)" add-on. FPA supports existing as well as future regulations which require capturing additional information on agreement and / or counterparty level via configuration.
FPA extends FCR capabilities by providing the following new & extended functionalities:
Master Data Administration
The "Master Data" section is extended by an additional "Protocol & Agreement Types" item supporting the configuration of all protocols to be tracked in FCR as well as its agreement types in scope. In addition, for each agreement type and protocol the required applicable regulatory fields and its types / details can be configured. Furthermore, the protocol configuration on counterparty level (Principal & Agent) and its required fields and types such as e.g., "Protocol Adherence", "PR Code" and "Submit Date" and its types / details per protocol are supported.
Based on the configuration in the FCR "Master Data" section an additional "Regulation" detail tab is provided on agreement level displaying the status of the "Bilateral Negotiation".
The FCR Counterparty Detail screen is extended by integrating an additional "Protocol Regulation" section displaying the regulatory fields of the protocols configured via "Master Data" on counterparty level.
ISDA Protocol Update / Upload Interface
Framesoft Protocol Adherence (FPA) also allows to update / upload adhering parties via protocol full list and / or delta file published by ISDA. For the upload a protocol is defined by its name and the adhering parties are identified via Organization LEI. Once an upload is triggered by a user all counterparties identified via "Organization LEI" and its adherence and options as well as PR Code, etc. will be updated in FCR automatically. A summary of the updates made will be provided to the user. Any upload will also be tracked via audit functionality. By additionally obtaining FCR Framesoft Agreement API any adherence information can be uploaded in FCR automatically.
Regulatory Adherence Search
Furthermore, FPA adds a "Protocol Adherence" search module to FCR allowing to view the adherence of protocols via bilateral agreement and / or ISDA Protocol. Any search result can also be exported to MS Excel instantaneously.
Framesoft Protocol Adherence (FPA) is offered as add-on to Framesoft Contract Repository (FCR) and will be released in Q4-2021.
For more information, please get in touch with Framesoft at This email address is being protected from spambots. You need JavaScript enabled to view it. or call us at +41 41545 37 72.
Details
Zug, July 19, 2021: Framesoft Founder enters X-Prize Carbon Removal Competition
The four-year global competition invites teams from anywhere to create and demonstrate solutions that can pull carbon dioxide directly from the atmosphere or oceans.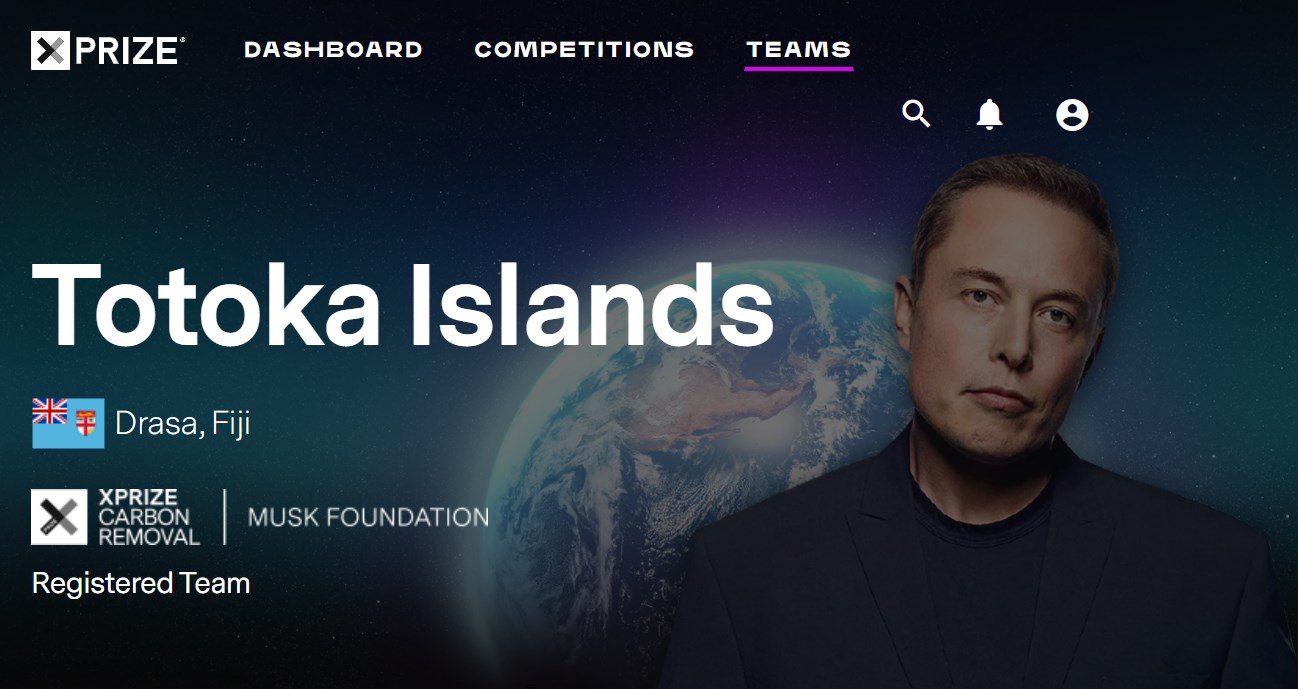 Totoka Islands, a company founded by Mr. Toralf Dittmann in 2012 with the goal to develop agroforestry operations in remote areas of Fiji, based on a sustainable ecosystem of diversified forests creating a natural landscape that grows the resources that are being utilized selectively from time to time, has officially registered for the $100M XPRIZE Carbon Removal, aimed at tackling climate change by asking global innovators to develop solutions that can pull carbon dioxide directly from the atmosphere or oceans and lock it away permanently in an environmentally benign method.
For more information on XPRIZE Carbon Removal, please visit https://www.xprize.org/prizes/elonmusk or https://totoka-islands.com/news/130-x-prize-registration
Details
Zug, July 8, 2021: Framesoft External Credential Management (FECM)
Framesoft announces the release of "Framesoft External Credential Management (FECM)" in October 2021.
Credentials serve as gateway to system components such as e.g., databases and interfaces. Password and credential management can be challenging in large, complex enterprises because of the sheer volume of credentials that need to be monitored. This becomes even more complicated if the enterprise has a high turnover rate and credentials need to be continuously updated or revoked.
Framesoft "External Credential Management" (FECM) helps you managing the access to system components and interfaces more securely as applications do not store any technical account credentials in its configuration anymore.
Via FECM the system connects any externally managed credential vault or authentication systems via API connector with the respective system components and
authenticates,
authorizes and
grants
the requested access.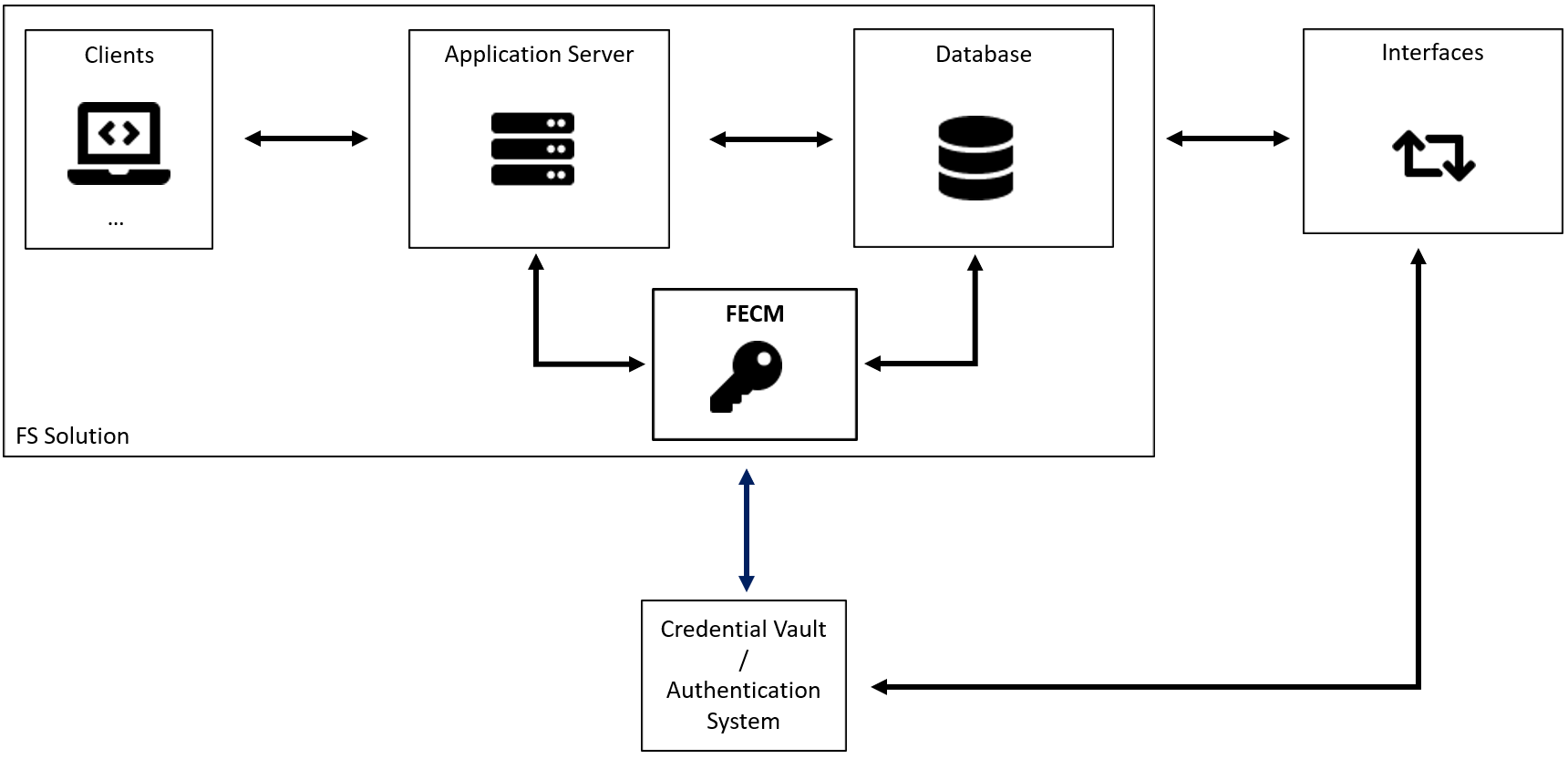 Framesoft External Credential Management (FECM) is offered as Add-On to any of our solutions.
For more information, please get in touch with Framesoft at This email address is being protected from spambots. You need JavaScript enabled to view it. or call us at +41 41545 37 72.
Details
Zug, June 29, 2021: Framesoft Version Control (FVC)
Framesoft announces the release of "Framesoft Version Control (FVC)" in October, 2021.
Framesoft Version Control (FVC) is offered as an add-on to all Framesoft solutions. It addresses the release process automation & transparency and allows the deployment of
upgrades,
releases or
configuration updates
into different environments in a fast and safe manner.
Furthermore, FVC will allow to gain transparency about any objects / components which have been updated by the customers internal development team or received via Framesoft version / upgrade or patch.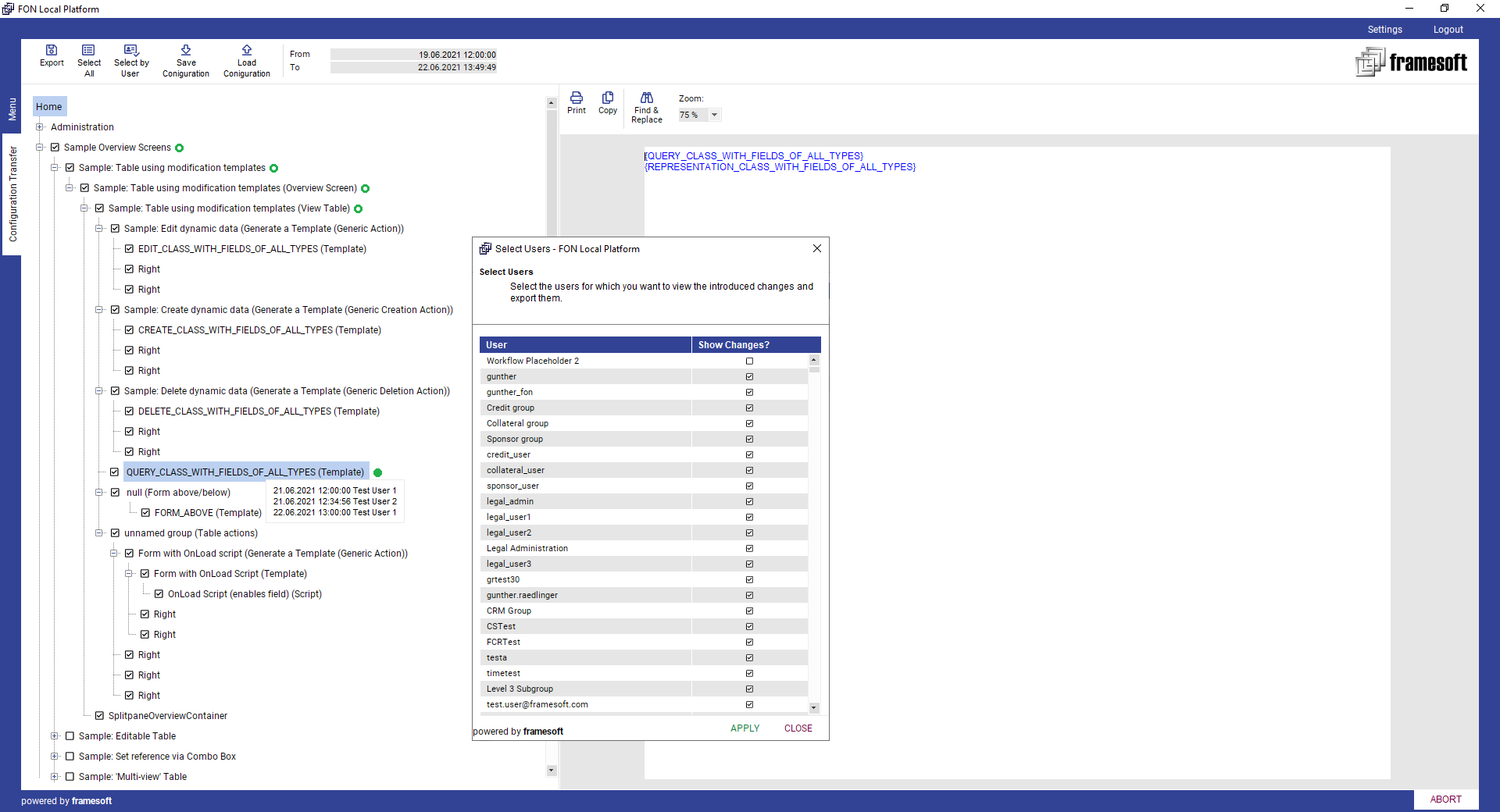 Framesoft Version Control (FVC) will manage the process of packaging and deploying or updating any Framesoft solution from development, across various environments, and ultimately to production via XML Ex- and Imports.
FVC will tremendously
speed up,
simplify
secure and
make transparent
the software development, packaging, and release process by offering the following additional features:
Tagging of any updated / changes objects (e.g., overview configuration, scripts, templates, actions, etc.)
Visualization of updated / changes objects grouped by components via tree structure for a freely defined period
Display of object change history
Detail view of updated objects / components
Automated XML export of all / selected updated components / objects
Predefined configuration management (Save & Load Configurations)
Additionally, FVC can be integrated with any enterprise release management solution in place.
For more information, please get in touch with Framesoft at This email address is being protected from spambots. You need JavaScript enabled to view it. or call us at +41 41545 37 72.