Overview
Framesoft Document Management (FDM) supports any organization in storing, organizing, and tracking electronic documents and files in a systematic and efficient manner. FDM involves a set of tools to o create, manage, and store electronic documents in a centralized location, enabling easy access via multiple channels, retrieval, sharing, and collaboration.
FDM supports
e-File Management
Document Management (of any type)
Archiving
Version Management & Control
Security
Metadata (Profile) Management
Indexing
Smart Searches
Workflow Management
These features allow users to control access to documents, track changes made to them, and ensure compliance with regulatory requirements and industry standards. Furthermore, FDM helps any organization to reduce costs associated with paper-based processes, improve productivity, and enhance information security.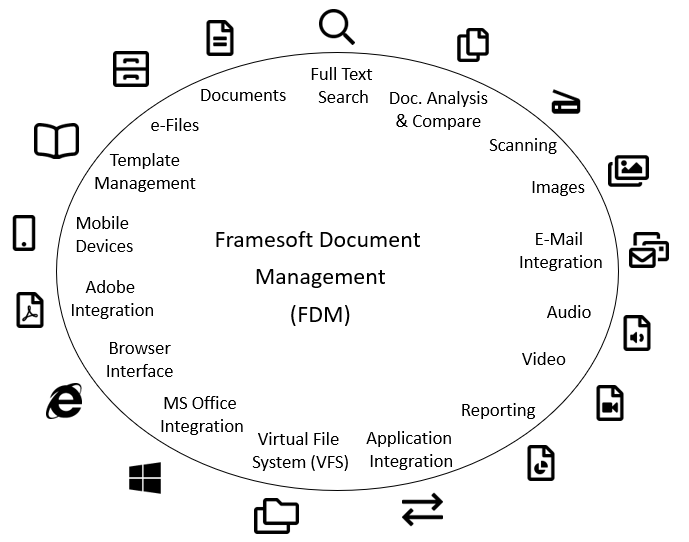 FDM supports the creation of the required organizational structures as well as managing of all types of electronic files (e-Files) and documents to be tracked, stored & searched via full text search or by assigning keywords configured on the basis of self-defined business rules.
Documents can be accessed, stored, or searched in FDM in many ways providing a complete FDM integration into the corporate's business environment.
FDM Internet Browser Module (e.g., MS Internet Explorer)
MS Office Integration Module (MS Word, MS Excel, MS PowerPoint)

MS Outlook Integration Module

Adobe Reader & Acrobat Standard / Professional Integration Module

MS File Explorer (via FDM Virtual File System)

Framesoft Scanning Solution (FSS)
Forwarding E-Mail into FDM including response
FDM Automatic Drive Loader
Tight integration with all other Framesoft solutions
Access via Web Services
Functionality
FDM provides a comprehensive set of functionalities for managing the corporation's content such as:
Flexible tree-based structure

containing folders & e-Files (Collection of documents incl. substructures under a common profile)

Dynamic (Document Type Specific) Document & e-File profile(s)

with freely configurable set of attributes

User, Group & Profile Administration based on the organizational structures

Subscriptions

- Notification about newly checked-in / updated documents

Direct Document Scanning

into FDM incl. OCR

Fast & flexible (full text) search

for documents, e-Files & folders using state-of-the-art search technology

Home screen

with access to [All] / [My] recently updated or checked-out e-Files and documents

Document Version Management

Document Linkage

to internal / external sources

e-Mail Attachment

handling

Fine grained authorization privilege

system (access control) to manage access to (single) folders & documents

User based selection of displayed e-File & document profile information as well as sorting, grouping, filtering of information displayed (saved in user's profile)
Paging

of e-file / folder or search results displayed

Send out documents

stored in FDM via direct E-Mail link

MS Excel based reporting and printing

Reporting Generator

for enhanced data analysis

Personal bookmark

creation for documents, folders & e-Files via drag & drop functionality

Quick Check-in for inserting documents into FDM via drag & drop functionality

Directly copy or move selected document(s)

from one FDM folder to another via drag & drop feature

Document Preview

Reminder and expiry

functionality

Document Compare

functionality (via Workshare)

Rule based integration of external documents

including metadata via REST or Web Services (XML / SOAP)

Workflow Support
Additional software modules (e.g., New Laws, External Counsel Assessment, Treasury, Client Portfolio Management or other modules) can be smartly developed and integrated into FDM.
FDM is seamlessly integrated with all Framesoft products such as
supporting a document storage & archiving of execution copies, correspondences, publications and results of negotiations, etc..
Furthermore, FDM can be integrated with Framesoft Data Insight (FDI) to support an in-depth data analysis & ad-hoc reporting.
Contact us at This email address is being protected from spambots. You need JavaScript enabled to view it. or +41 41 545 37 72 to see FDM at work via online demonstration.