Framesoft Structured Products (FSP) supports financial institutions in managing the process of engineering & issuing derivatives products as well as generating & distributing all necessary documentation such as:
Prospectuses / Indicative / Final Terms
Funds Fact Sheets
PRIIPs KiDs
Letters or e-Mails
and any other socumentation required
FSP supports the typical engineering techniques of creating new derivatives based on inheritance and modification of existing structures. Workflows associated with the creation & documentation of derivatives can be freely configured.
The automatic generation of all documentation dramatically shortens time to issue and eliminates operational risks resulting from manual intervention. Windows of opportunity for new derivatives can be quickly exploited by cutting the time required for issuing a new product from several days down to a matter of minutes.
A sophisticated system of versioning and approval ensures compliance with both external and internal auditors. Finally, interfaces to trading and back-office systems and report generation allow the export of product details.
FSP is a generic tool, which can be employed to cover any financial product structure such as warrants, certificates, notes and any underlying asset category, like equity, fixed income, commodities or credit derivatives. FSP controls the entry, maintenance and retrieval of e.g.:
Financial Instrument Data

Structure Data

Issue Data for Securitized Products

Static Data (Exchanges, Countries, Currencies)

Product Data.
As a tool designed for "Business Process Management", FSP is capable to interface with the existing application environment of the organization and exchange data or communicate with them via XML Messages or other formatted message types via all standardized or bespoke protocols.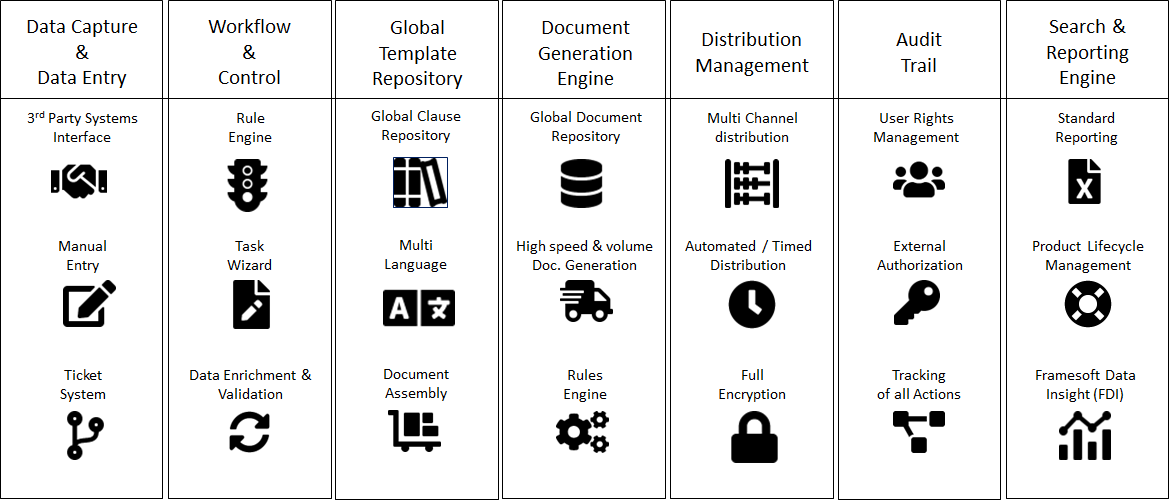 High Speed Product & Document Management
Due to the modular and object oriented fashion it is possible to simplify the work on a new issue's documentation to the point that the documents are ready for distribution as soon as the data is available. To boost productivity when issuing numerous products with similar parameters, FSP supports cloning of issues, requiring only minimum parameter changes for each new variant.
FSP further supports collective issues spanning multiple warrants. High speed and volume server side document generation as well as parallel generation of documents in different formats are supported. Once the documents are generated the automated distribution to internal / external recipients is started as part of the workflow. The distribution process takes also care of recieving an acknowledgement by each recipient.
Modularity
The modularity of FSP allows the creation of any type of document. Text elements in the documentation and documents are inserted or created dependent on the structure and parameters of the product at hand: no more cumbersome and error prone manual transfer of data and reworking of texts in documents is needed. Even new documents can be added to live workflows.
Integration of Product Data and Documentation
FSP helps to ensure integrity of all legal documentation by introducing XML-based document templates. These templates can be populated with key data and predefined conditional text components from the database, thus ensuring consistency of data and legal wording for all documents.
Product Design and Creation Have Become One
Via "Framesoft Document Assembly" (FDA) clauses & templates and all embedded data fields and queries fully integrating the product data into the document creation process and its surrounding workflow. The Workflow Engine allows the issue process to be modeled including all users, tasks, conditionality and documents.
FSP manages the entire issue process from initial data capture to the assembly of the final documentation using document modules and related "static" data (underlying assets, license disclaimers, listing information etc.) creating the product as a whole from conception to execution of the issue.
Completely Integrated Issue Workflows - Deadlines under Control
FSP provides a comprehensive tool set of workflow control and monitoring functionality. The Issue Process can be set up as a chain of workflow steps, assigned to users or user groups, together with due dates, escalations and reviews dependent on issue parameters and task status. Wizard Screens and Workflows for the preparation of issues are configured without programming. Workflows for new financial products and new documentation templates can be introduced in real time, without the need of a major system overhaul or version change. Any Task in a workflow is defined in a freely configurable wizard framework, allowing wizards and task types to be developed around the requirements of the organization.
Data Validation and Freely Configurable Workflows
Data which is captured in documents within a task can be validated against a set of rules and then used for workflow control. In this way, workflows can be controlled to determine
if the documentation to be created is for a certain listing
a certain issue type (Private Placement, Public Offer)
if additional documentation needs to be created for notification of, e.g. an index licensor.
FSP's Workflows are configured by Framesoft or customer itself, and can be adjusted and amend during runtime, e.g. for new internal or external regulatory demands or new products or product features. A Business Manager or authorized participant can reassign any workflow tasks to a different user / user group, if required.
Audit & Archiving Capabilities par Excellence
Each stage of the product and document generation workflows can be made subject of approval by another user with appropriate approval rights. A complete audit trail of all data and documentation changes, plus extensive user definable reporting & analysis capabilities multiple formats provides extensive MIS overviews of process throughputs and bottlenecks as well as ensuring compliance with in house and external regulators. FSP can be integrated with any Document Archiving System (e.g. Framesoft Document Management (FDM)) for automatically created or externally provided documentation. Access to document history / document versions is always provided.
Trading & Settlement – Integration beyond Organizational Borders
Trading and Settlement of the issued securities needs to be prepared and supported even after the actual issue has taken place. FSP firstly prepares all the application letters, faxes and e-Mails to internal and external service providers, such as clearing agencies, exchanges and information services. Product data is also transferred via dedicated standard or bespoke interfaces to Risk Management Systems, Back Office or external agencies (such as an exchange). Finally, the structured data source and interfaces supply internal or external (e.g., regulatory) institutions for purposes of statistical data collection.
Securities Issuance
From Structuring and Data Collection to Origination and Filing of Documentation, the Issue of new Securities requires the participation and interaction of many cooperating departments, each contributing to the complete product.
Using FSP, working through the at times complex and lengthy To Do List of a typical issue of securitized products "is a breeze". FSP takes care of the many steps in completing the data, whilst at the same time validating completeness and correctness of that data at each step along the path to the final issue. For example, the insertion of additional security numbers, product descriptions, or amendment of preliminary product data with the final version is carried out directly within the relevant documents, automatically populating the underlying data model thereby ensuring those amendments will be reflected in the subsequent documents required in follow up steps of the workflow.
Contact us at This email address is being protected from spambots. You need JavaScript enabled to view it. or +41 41 545 37 72 to see FSP at work via online demonstration.