Framesoft Document Generator (FDG) supports the complete lifecycle of any type of document generation & automation including workflow management, document distribution & archiving.
Furthermore, FDG offers a comprehensive template / clause repository and document template assembly via Framesoft Document Assembly (FDA) integration. Any workflows associated supporting the business processes in the creation of documents can be freely configured.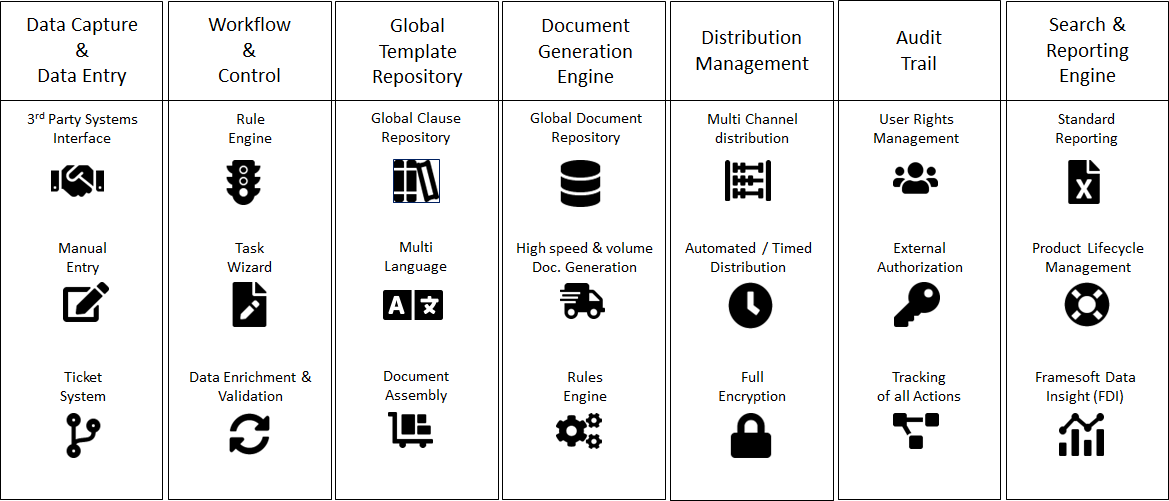 FDG Components
1. Data Capture & Data Entry
Any data captured as the bass for a document generation can be integrated via
3. party system interfaces
Manual data entry or
Integration with any other corporate system
A document generation process might also be started via answering a questionnaire.
FDG offers a sophisticated and extendable data model for fast and easy set-up of new process and data types as well as static data requirements.
2. Integrated Workflow Engine
Organization specific, configurable rule-based workflows for data & documentation tasks
Task Wizard - informing about new tasks directly or e-Mail notifications
Sophisticated overview screens of the entire documentation generation process
Fast and flexible user defined search functionality
Approval Process Management supporting the complete workflow of the generation process incl. insertion & versioning of external documents
Finely grained privilege management system with role & user-based authorization
3. Template Repository
4. High Speed Document Generation Engine
Rule based (Matrix) management of mandatory & optional documentation & approval and distribution channel dependent on process / document type
High speed & volume server-side document generation as well as parallel generation of large documents
Integration of Charts / Graphics based on real time data
Generation of different document types (e.g., PDF or MS Word)
5. Distribution Engine
Completely configurable set of distribution channels to internal & external information providers, corporate web sites, exchanges, etc.
Automated / Timed Document Distribution
Automatic e-Mail creation for distribution of documentation and related information
Fully encryption of distributed documents
6. Audit Trail
Organizational Structures are reflected in the Administration of users, groups, and profiles
Tracking of all actions performed in FDG
External Authentication
7. Search & Reporting Engine
Standard Reporting via MS Excel export of FDG overview tables
Extended reporting via reports & graphics configured
Extended data analysis, reporting and dashboarding via Framesoft Data Insight (FDA) integration
Any document generated by FDG can be archived in a Document Archive solution such as Framesoft Document Management System (FDM) automatically.
The scope of FDG could be further extended via Framesoft Online Negotiation (FON) integration for a seamless document review & negotiation.
Contact us at This email address is being protected from spambots. You need JavaScript enabled to view it. or call us at +41 41 545 37 72 to see FDG at work via online demonstration.