1. Overview
Framesoft Contract Repository (FCR) is a dynamic application for Legal, Documentation, Credit and Treasury functions. It enables financial institutions engaged in OTC Derivatives; REPO and Security Lending transactions to maximize the value of all information contained within (Master) Agreements, such as close-out nettings provisions and associated Collateral Arrangements.
FCR supports a 360-degree management of any corporate agreement during its entire lifecycle.
By translating complex yet qualitative information into centrally managed, usable, referenceable data, FCR will accurately generate the fundamental parameters for netting, both enhanced Credit Line Management and Regulatory Capital Relief. In this way, FCR facilitates sound management of Credit, Legal and Operational Risks for Legal, Documentation and Credit Risk functions across institutions.
Framesoft Contract Repository (FCR) supports leading Banks and Security Houses in managing and evaluating information on thousands of Master & Collateral Agreements globally, whilst also taking account of multi branch relationships between both parties, products traded, and jurisdictions relevant for determining the "Nettability" of transactions.
The Framesoft Contract Repository (FCR) is an integral part of Framesoft's Contract Management Suite.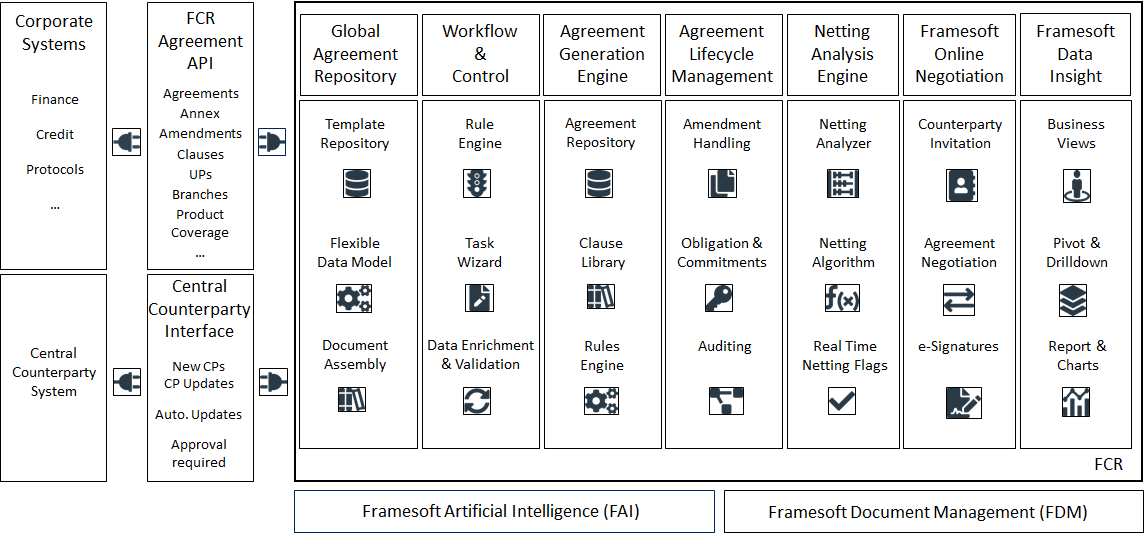 Framesoft's Contract Management allows companies to gain control of all contracts and associated privileges & obligations. With Framesoft Contract Management, all corporate professionals dealing with mission critical contract documents have immediate access and visibility into contracts across the enterprise, resulting in elimination of operational risks, acceleration of processes, instant management control and compliance with guidelines and regulatory requirements. Even external parties may be fully integrated in all relevant steps of the workflow associated with mission critical contracts.
These advantages are derived from a fully integrated set of applications combined in the Framesoft Contract Management Suite, covering the complete lifecycle of any contract or other business document:
2. The Business Driver
As trading volumes increase and firms both reach their credit limits and increase counterparty exposure and therefore credit risk, the need to collateralize their activities becomes increasingly important. Coupled with the growth in numbers and type of trading counterparties, this need to collateralize to free up trading lines and reduce exposure becomes critical.
The credit risk mitigation achieved by master and collateral agreements delivers two key business benefits, namely, the opportunity for enhanced credit line management and the potential for obtaining regulatory capital relief. Such relief can be secured by the firm, through having lower exposures to counterparties and thus reducing capital burdens imposed by regulators.
The further reduction of counterparty exposures through collateralization and the potential reduction of actual loss upon default, through legally enforceable close-out netting provisions, are clearly beneficial. However, these techniques, whilst mitigating one form of risk, introduce two other major types of risk: Legal Risk and Operational Risk. In a growing collateralization market, these risks take on new significance. Moreover, the Basel Capital Accord II actively proposes the introduction of capital charges for less than robust management of these risks.
Put simply, the full benefits of mitigated credit risk in today's regulatory environment can only be realized if legal and operational risks are also managed successfully. Framesoft Contract Repository (FCR) does exactly this.
As the market grows, the need to manage agreements centrally and the ability to scale up and adapt to changing legal and operational requirements is critical. FCR performs these requisite functions and more.
3. Functionality & Key Benefits
The functional elements of Framesoft Contract Repository (FCR) are all designed to enable the successful management and administration of master and collateral agreements from a central point.
This centralised approach to document and data management will become essential in ensuring the execution of truly firm-wide credit risk management strategies, given the changing emphases of regulatory capital allocation regimes. As agreement information is effectively transformed into useable data items, adaptability, flexibility, and scalability are achieved with consummate ease.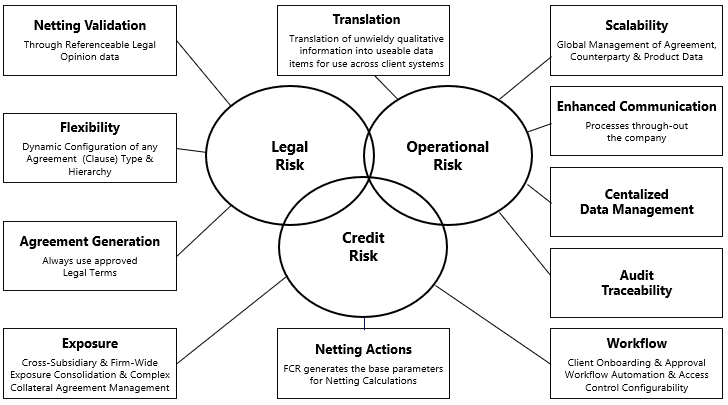 FCR builds on these base functional characteristics to improve both communications between front and middle office functions and more specifically, provide the fundamental rules for firm-wide, accurate netting processes. This power and flexibility create a key advantage over incumbent, conventional contract management systems, typically derived from desktop database applications or even spread sheet based programs. These distributed, hard-to-control, inflexible and therefore unwieldy tactical applications simply will not be able to provide the quality of data management required for the critical reporting and netting process requirements placed upon firms by regulators for proper operational risk control.
FCR not only provides the necessary flexibility, scalability, and quality of data management, but goes on to provide the deliverables of key reporting structures and netting processes themselves.
The functionality of FCR is rich and unique. It includes, but is not limited to, the following key processes and actions:
Dynamic Property Set-up


FCR is able to build and manage additional data types dynamically. This functionality provides the flexibility to handle any new legal, contractual, counterparty type, product, or regulatory requirements. This has proven invaluable to clients, many of whom have needed to respond to changing capital adequacy qualifications by inserting "early termination" clauses across their agreements. The freedom of free configurability of data types is of enormous benefit, yet represents only one piece of functionality.

Netting Data Management


The specification of contract, counterparty, and product information, which are of relevance to the firm's regulatory or internal credit line netting conventions. With FCR, it is possible to highlight all clauses, all attributes of a counterparty and all characteristics and related facets of a traded product as to their requirement to be identified and valued in the netting process.

Building on the function above, FCR utilizes its own netting algorithm to generate netting data, which describes empirically, which combinations of counterparty (down to branch / city level per jurisdiction) and traded products are nettable. This is a unique function to Framesoft Contract Repository. The application can determine the rules against which netting may be permitted. These tables of netting information are also viewable as defined reports or on-line, across the firm (access permitting).

Netting Analyzer


The Framesoft Netting

Analyzer

provides the opportunity of Real-time netting evaluations of agreements.

Document Generation & Negotiation


Framesoft Contract Repository (FCR) was developed aiming to support the complete lifecycle of any kind of agreement:

Starting off with a draft agreement generated via Framesoft Document Assembly (FDA)

Capturing of structured data itmes for any kind of agreement is easy by using FCR's data model designed for current &

future requirements offering unlimited expandability regarding agreement types & clauses

FCR uses its core data relating to jurisdictions, including counterparty data, netting provisions and products to be covered under the agreement, to generate schedules

Framesoft Online Negotiation (FON) integration for a seamless agreement generation and negotiation
Tight integration with Framesoft Document Management System (FDM) for archiving of execution copies as well as any king of associated documentation.

Workflow Engine


As FCR supports the whole lifecycle of any document a comprehensive workflow engine for approval, negotiation, etc. is an integrative part of the FCR capabilities.

Interfaces & Communication




The ability to interface with in-house or third-party applications, enabling the provision of agreement and netting information to all relevant business units or integration to legacy system delivering e.g. counterparty data or rating information.

Search & Reporting
FCR and its add-on Framesoft Data Insight (FDI) have extensive analysis and reporting capabilities.
Customization


FCR can be customized to each company's specific needs.

User Administration


Access rights & user privileges are fully configurable within FCR.
Contact us at This email address is being protected from spambots. You need JavaScript enabled to view it. or call us at +41 41 545 37 72 to see FCR at work creating e.g., an ISDA 2002, Swiss OTC or Asset Management Agreement via online demonstration.