Zug, March 12, 2021: Framesoft announces the release of Framesoft Contract Repository (FCR) 4.2 on May 7, 2021.
FCR 4.2 marks another milestone in
configuring,
requesting & creating,
generating and
negotiating
analyzing / reporting
Agreements / Annexes / Amendments of any type by integrating the FCR Add-Ons
Framesoft Document Assembly (FDA) - Realtime creation & configuration of document templates
Framesoft Data Insight (FDI) - Agreement & Data (Risk) Analysis (e.g., which agreements include a selected clause as well as Reporting & Dashboarding)
Framesoft Agreement API - Creation and / or updates of agreements / annexes triggered by external sources via API including FCR API monitor
FCR 4.2 allows a 360-degree management of any agreement during its entire lifecycle.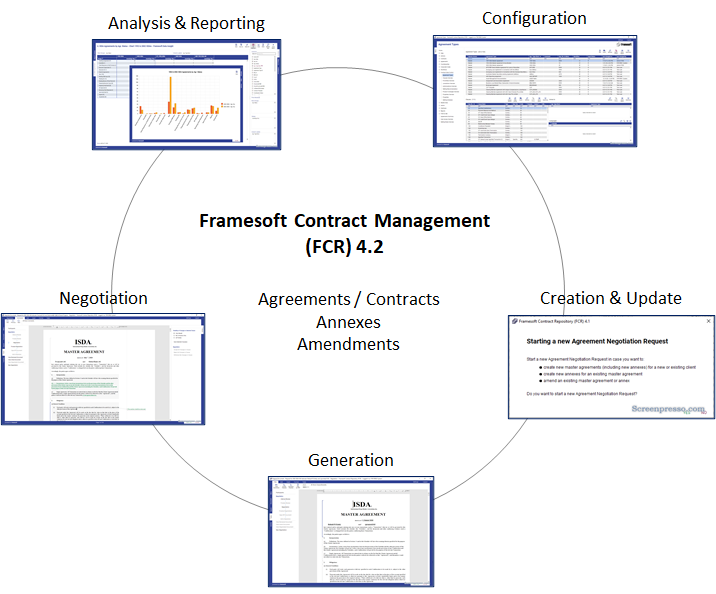 Furthermore, FCR 4.2 offers the following enhancements:
New version of the FCR Web Client
New version of Framesoft Docs (template & document editor)
New version of FCR Netting Analyzer for Java & Web Client providing enhancements and performance improvements
Workflow Engine - Handover extensions
FCR Performance Improvements
Continuous Modern Theme based User Interface (UI) improvements
Automatic FCR Client update
Further minor enhancements & extensions
FCR 4.2 is based on Open JDK and is designed to run on Oracle Database 19c.
Get in contact with us at This email address is being protected from spambots. You need JavaScript enabled to view it. to receive more information or book an FCR 4.2 online demonstration.