Details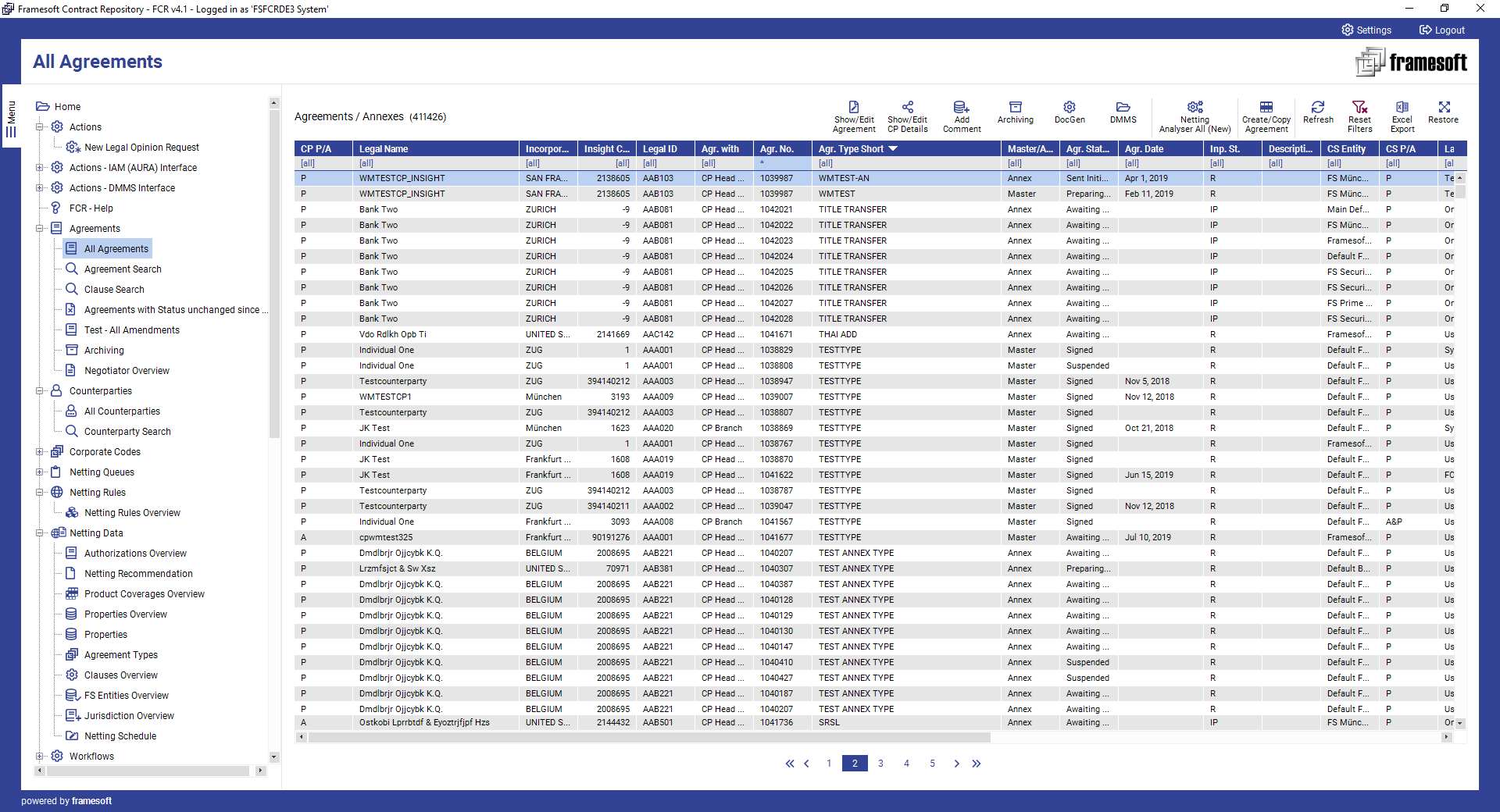 Zug, Nov 20, 2019: Framesoft will release the new Framesoft Contract Repository (FCR) 4.1 in Q1-2020.
FCR 4.1 will offer the following new and enhanced functionalities:
Further improvements of modern theme based FCR user interface introduced with FCR 4.0
Paging in FCR overview tables allowing to display mass-data like e.g. in "All Agreements" or "Agreement Search"
New FCR Web Client Interface
FCR 4.1 will be based on Java 11 & Oracle 19c
High Resolution Display support (HDPI) (beyond HD)
New FCR Netting Analyzer module offering

New user interface (UI)
"Analyze All" - Mass agreement analysis capabilities
Direct agreement selection & filtering
Paging of results
Accessible from FCR Java & Web Client

Further extensions of the FCR template & document editor (Framesoft Docs) regarding

Clause Library & Clause handling
Template & Document editing / negotiation
Global Style handling
Document Generation

Workflow Engine enhancements
Framesoft Data Insight (FDI) integration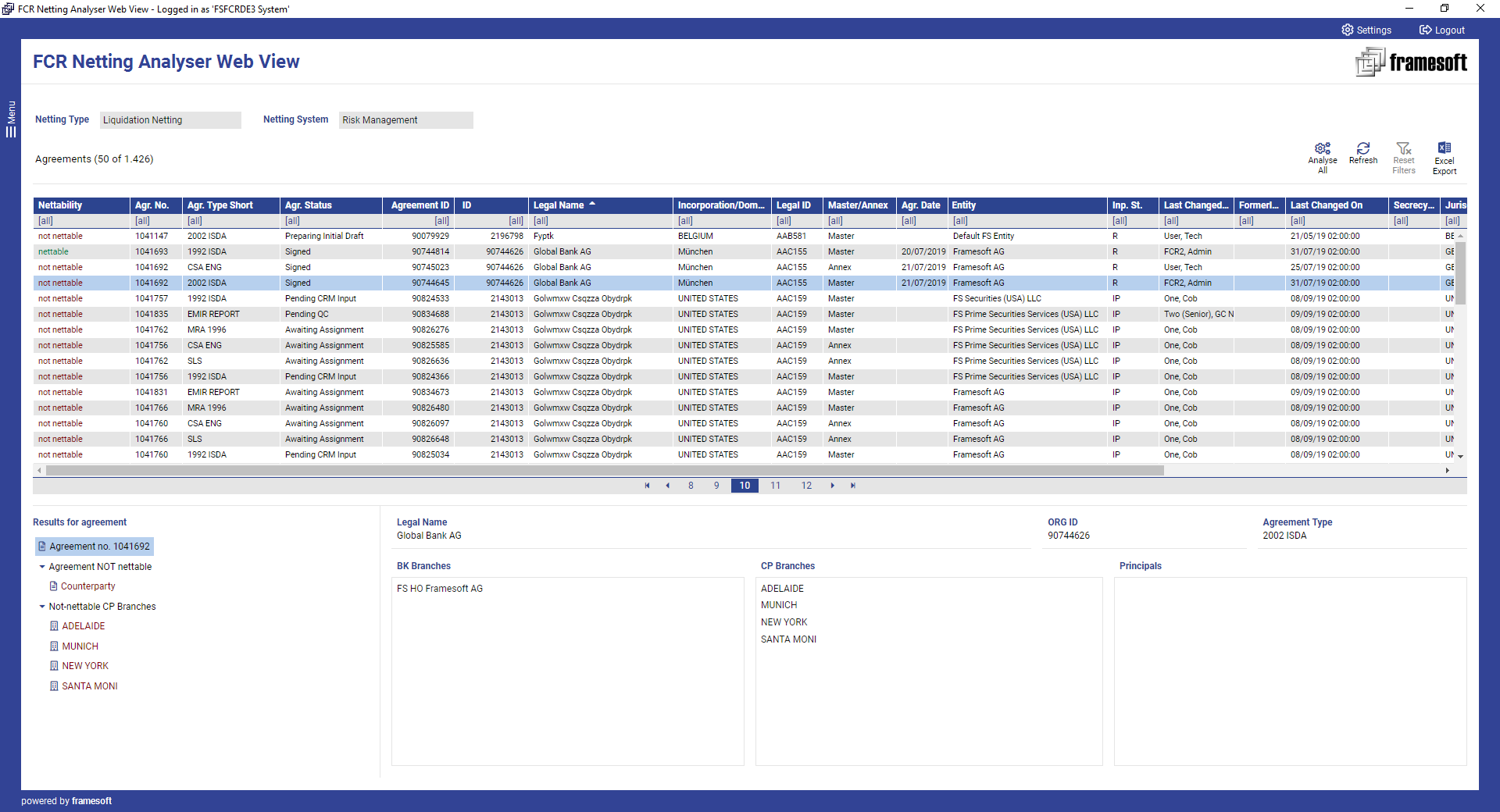 As mentioned above FCR 4.1 will be released in Q1-2020.
For more information, please refer to the FCR 1-Pager or the FCR 4.0 release news published earlier this year.
For an FCR 4.1 live demo, please get in touch with us at This email address is being protected from spambots. You need JavaScript enabled to view it..
Details
Zug, Nov 14, 2019: Framesoft Data Insight (FDI) 1.0 will be released in December 2019
As companies accumulate more and more data, the quality of data transformation and analysis becomes a high value in the process of modern business scaling. Furthermore, interrogating data and extraction of additional values hidden insight the high amount of data and making them available is the key to pace up business scaling.
Framesoft Data Insight (FDI) is the answer to this demand:
FDI let you analyze your data in real-time to make better decisions and predictions
FDI brings intelligence to unstructured data ownership and usage
FDI let you discover and analyze your data on demand with no infrastructure setup, nor time-consuming transformations or pre-processing of the data
FDI comes with a predefined set of business views which are the basis for your analysis and reports - there is no need to learn a query language, you can work with your data intuitively and ad-hoc

Example of Aggregation of data visualized via Dashboard / Chart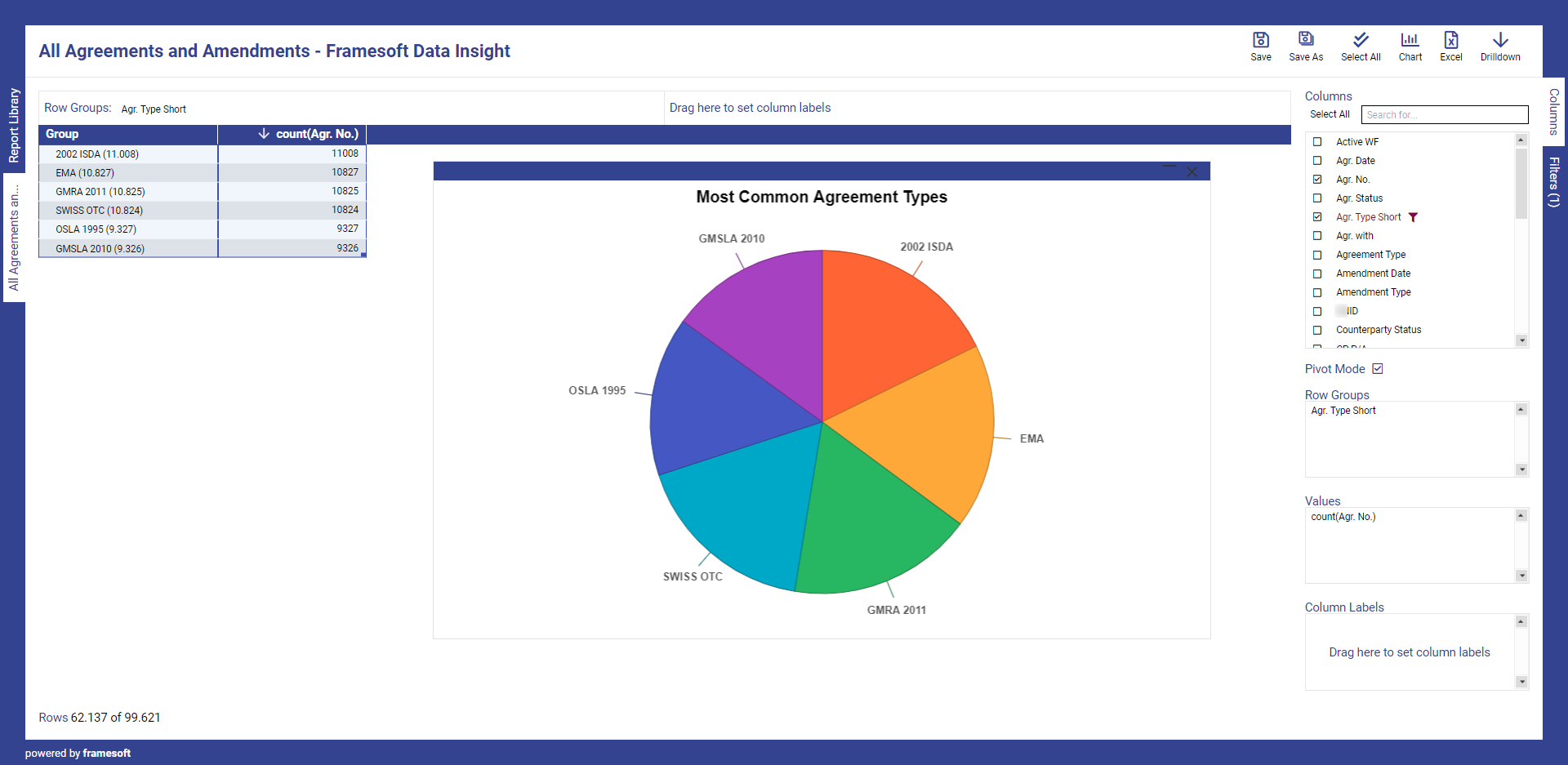 With Framesoft Data Insight (FDI) you will discover hidden insights from your data and transform huge amounts of raw data into actionable reports and dashboards. Business users can track key metrics, see longtime trends, identify outliners and unearth hidden insights by using FDI as add-on to any Framesoft solution.

Framesoft Data Insight (FDI) Key Benefits
FDI supports in depth data analysis & ad-hoc reporting as well as Standard Reporting and Dashboarding
Access to your accurate real-time data provided via Pre-defined business views as the basis for any analysis
FDI can be extended by additional business views at any time including re-use of existing reports and views
Easily create, distribute and re-use compelling reports and eye-catching dashboards
Filtering, Grouping and Pivot Mode
Linkage of business views and drill down to individual data record
Aggregations such as e.g. Average, Count, First, Last, Min, Max and Sum
Data & Dashboard export

FDI Drilldown example (from Agreements to Workflow or Clauses, etc.)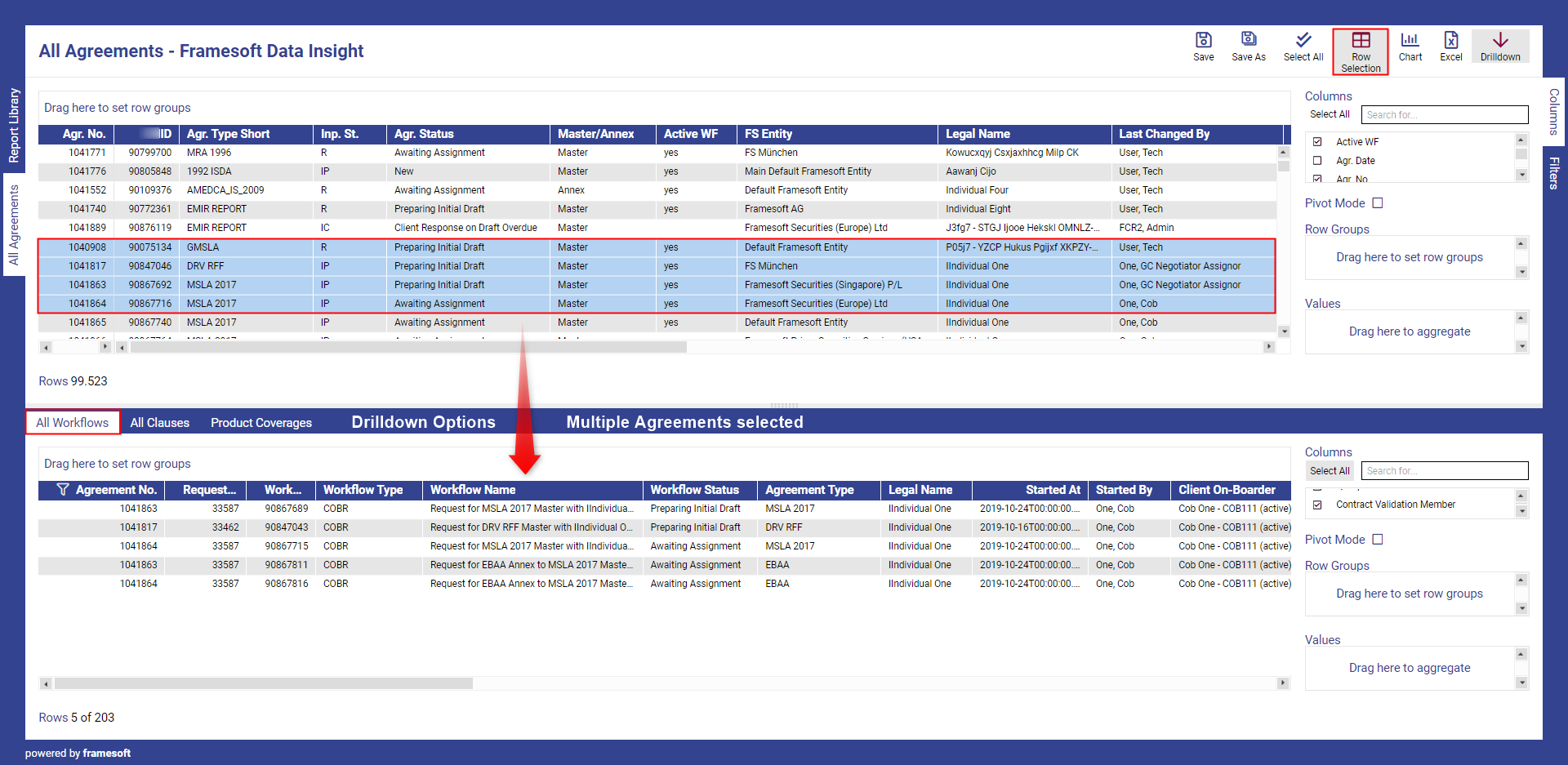 FDI will be offered as Add-on license to any Framesoft solution already acquired and will be available in December 2019.
For more information, please refer to the FDI 1-Pager or get in touch with Framesoft (This email address is being protected from spambots. You need JavaScript enabled to view it.) for an FDI live demo.
Details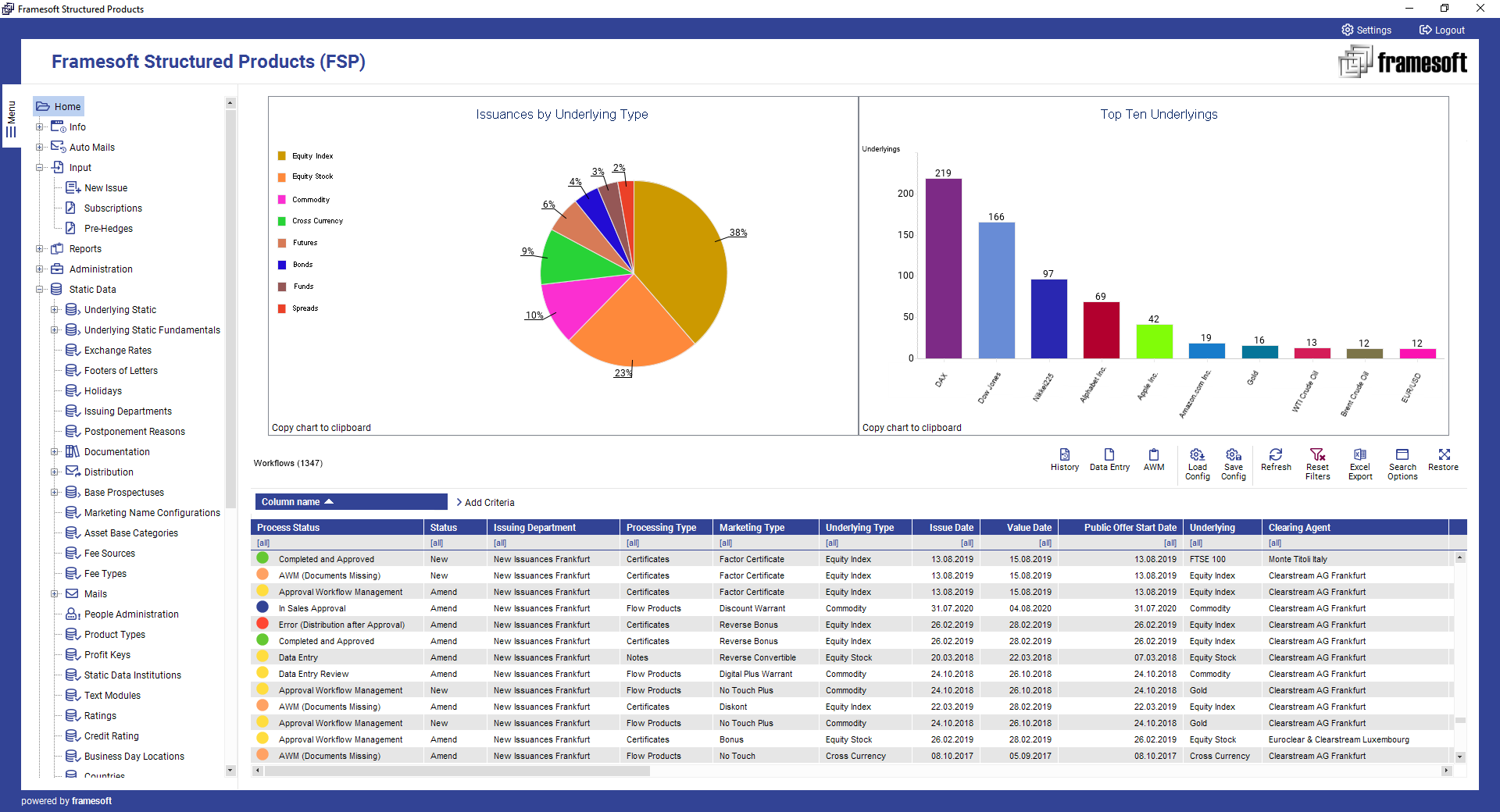 Zug, 23 August 2019: Framesoft has released its major new version of Structured Products (FSP) 8.0.
With the provision of FSP Version 8.0, our customers will have an even more powerful & modern platform to further improve their business operations by decreasing the time to market, enhancing the overall flexibility and reducing the risk of failures.
The considerable enhancements of FSP Version 8.0 comprises:
New FSP User Interface (based on Modern Theme)
Enhanced Workflow Engine for managing the issuance, distribution as well as support processes
New Framesoft Docs Template & Document Editor incl. collaboration functionalities
Automated Documentation Test Suite
Interface Health Check Module
Many more functional enhancements
Framesoft Data Insight (FDI) add-on option
Framesoft Structured Products (FSP) Version 8.0 is available as of now.
For further Information, please download the FSP 1-Pager below.
Details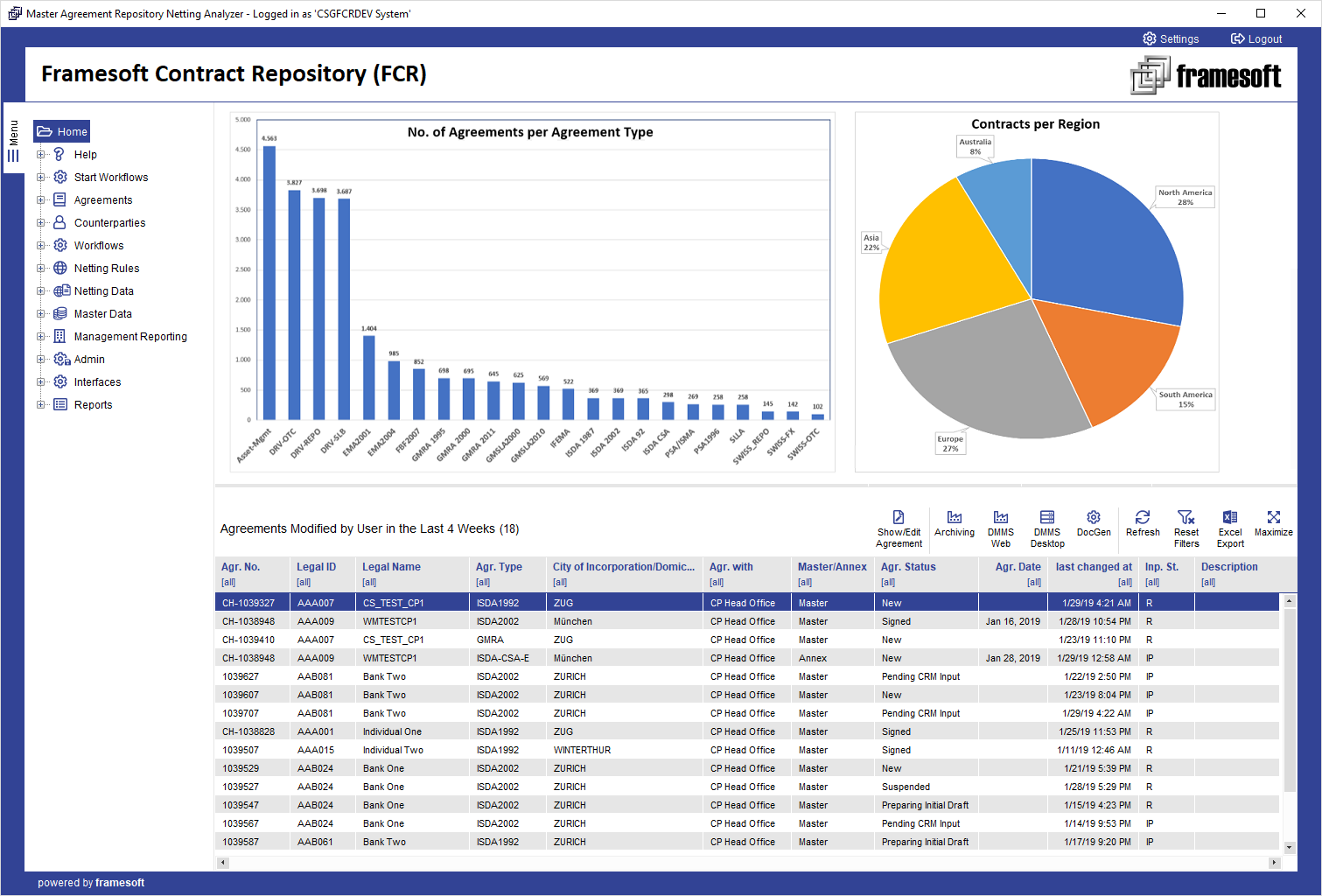 Zug, 15 February 2019: Framesoft unveils another major landmark in its Contract Management Suite (FCM), the availability of the new Framesoft Contract Repository (FCR) Release 4.0.
The new FCR Release 4.0 offers major improvements and extensions regarding the
creation,
generation,
negotiation &
management
of any type of (Master) Contract / Agreement during its entire lifecycle.
In more detail FCR Release 4.0 offers the following innovations & improvements:
New FCR User Interface (UI)
New User Interface based on Modern Theme
New Side Bar for a fast and intuitive navigation
New Dashboard – a powerful, flexible & customizable Business Intelligence tool to embed analysis capability into FCR
FCR Business Enhancements
Perceptive Contract Versioning Module including Compare Mode
Jurisdiction specific extension of Netting Rules Engine
Extension of Workflow Engine with respect to agreement negotiation, Non-Standard Terms Approval and Legal Opinion handling
New FCR Netting Analyzer with enhanced user interface based on modern theme and mass data analysis capabilities
FCR Web Client (Add-on) for occasional FCR user offering access to Agreements, Counterparties, ToDo lists, new Netting Analyzer, Audit Information and dedicated Workflow tasks
FCR Template Configuration & Document Generation
Introduction of "Framesoft Docs" as the new template & document editor
Availability of a comprehensive Clause Library - integration of pre-approved clauses via drag & drop when generating agreements or other negotiable documents, eliminating the need to involve the legal team in every deal
Template & Document Search with powerful search and replace features within templates and documents
Extended Track Change management for negotiations / reviews by multiple parties
Commenting - provision of comments in contract terms or clauses to be shared with selected or all other groups involved in the contract generation.
Additionally, Framesoft will introduce the
Framesoft Online Negotiation for Master Agreements (FON for MA)
As a further extension of the Framesoft Contract Management Suite, FON for MA offers a versatile secure online platform for negotiating any kind of contract. It supports the secure and efficient online creation & negotiation of any type of agreement with your counterparties or internally.
To support a seamless FCM integration generated contracts (including its data points) can be uploaded from FCR via "FCR Bridge". Once a negotiation is concluded successfully the contract terms agreed can be passed back to FCR for reconciliation and netting via FCR Bridge again.
as well as the
Framesoft Data Insight (FDI)
Framesoft Data Insight (FDI) provides direct access to data stored in FCR based on predefined business views for analysis, business intelligence or reporting purposes.
Business users can analyze the data on demand with no infrastructure setup and no time-consuming transformations, pre-processing or metadata management.
FDI also provides a report library, where users can store and publish their reports for re-use or share it with other users.
Furthermore, it supports the linkage of business views, as well as a drill-down to more detailed data items
Any report or result set can be easily exported to MS Excel or transformed in a dashboard / grpahical representation
Details
Zug, 26 October 2017: Framesoft unveils the Framesoft Online Negotiation Platform (FON) for Master Agreements. 
Framesoft Online Negotiation (FON) for Master Agreements is the online platform for electronically negotiating (master) agreements: 
FON for Master Agreements is a Software as a Service (SaaS) solution which is offered to its subscribers via the internet. As such it delivers extremely quick adaptation, paired with low cost and minimal risk of implementation

FON for Master Agreements simplifies the administration, enhances the transparency as well as speeds up the negotiation process between the negotiation parties. The centralized documents on the FON platform mean no inconsistencies, breaks or version conflicts in any negotiation

FON subscribers simply invite counterparties to a negotiation. The invited counterparties do not have to be subscribers; all they need is internet access

FON subscribers can upload and maintain their own library of draft agreements, annexes and schedules on the platform
FON for Master Agreements negotiations are conducted in a logical, well defined process:
Key benefits of using FON for Master Agreements
One Contract document for the entire negotiation: no

inconsistencies

, breaks or version conflicts

Contract data attributes remain an integral part of the contract throughout the whole negotiation

FON's integrated document editor

safeguards data items to ensure data integrity and seamless backward reconciliation into corporate systems

speeds up negotiation by supporting parallel negotiation workflows on distinct clauses of the contract

Reduction of legal, credit and operational risk

Optimization of negotiation workflow through business process reengineering

Full audit trail of the negotiation process

Any number of parties may be involved in a negotiation. New parties may be added whenever they are required

Negotiation can consist of any number of documents

Secure access to contracts; both parties access a single version of the contract via a high security link using

tunnelling

and encryption

Turnkey Solution - does not require any specific installation of software or hardware
A full 'round-trip' integration with Framesoft Contract Repository (FCR) allows a seamless (Master) Agreement setup and negotiation process. All required data items can be fed back into FCR for further processing and netting evaluations: 
Uploading a Master Agreement including data points from FCR via "FCR Bridge":
FON for MA - Agreement Reconciliation to FCR:
Framesoft Online Negotiation (FON) for Master Agreements will be available in 2019.