Details
Zug, July 13, 2020: Framesoft Online Negotiation for Master Agreements (FON for MA) and Framesoft Data Insight (FDI) fully integrated in Framesoft Contract Repository (FCR)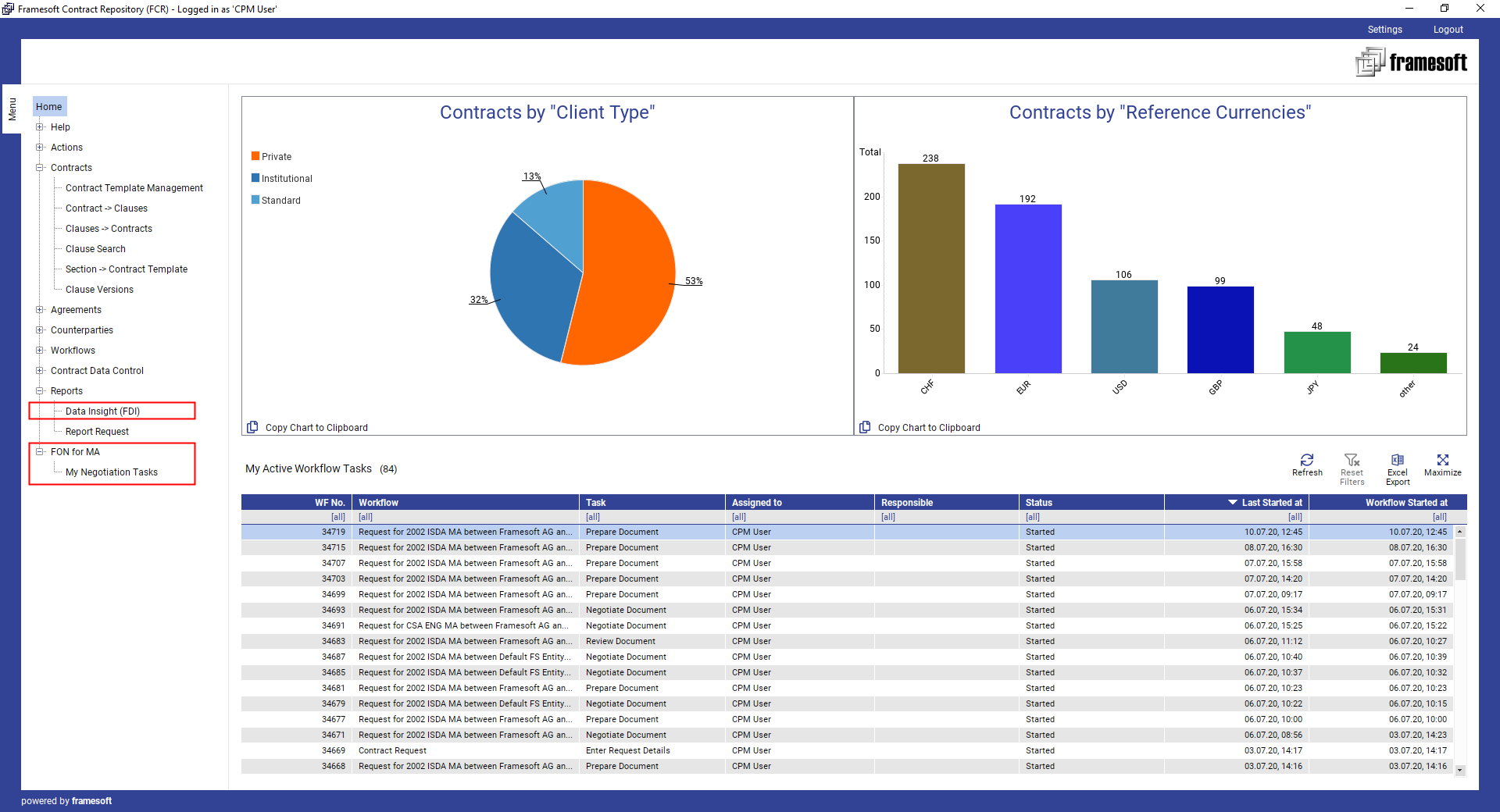 This integration now supports the integrated agreement request, creation, (internal) review & negotiation with counterparties as well as lifecycle management of any master agreement in FCR as follow:
1. Automatic Draft Document Generation embedded in workflow, e.g. Agreement Request Workflow
2. Structured Agreement Document Assembly via "Contract Template Management"
Dynamical creation of any type of agreement documents. Such creation is based on the flexible online configuration of a "Master" document and its individual components such as
sub-documents (Master Agreement, Schedule, Annex),
sections and
Terms (clauses / clause alternatives) based on an atomized clause library.
3. Document centered Master Agreement Review & Negotiation Workflow
Conduct the internal review and external agreement negotiation of such automatically generated Agreement Draft Documents with your counterparty via FON for MA integrated into FCR directly. During these processes FON for MA takes care of:
"Merge Handling" of updates pushed into a currently reviewed agreement by

new standard clause versions,
non-standard clauses approved
data point updates or
individual update of clause text in the reviewed / negotiated document

Automated generation of new agreements / amendments triggered by a standard clause update (if required)
Automated generation of new agreement / amendment triggered by a data point update
In addition, FON for MA has been extended by a messaging component which lists all activities performed and allows a direct communication (chat) between the different parties involved.
4. Integration with 3rd party agreements
In case the agreement shall be based on a 3rd party document, the FCR agreement request could be conducted and the 3rd party template can be imported into FCR (via FON for MA).
Once the import is concluded, the following actions are supported:
Automated recognition of agreement clauses
Artificial Intelligence (AI) based "Clause Compare" against the FCR "Clause Library"
Evaluation of Match Probability
5. Framesoft Document Intelligence
The Framesoft AI module "Framesoft Document Intelligence" can be integrated with FCR supporting
(Agreement) clause evaluations,
Clause categorizations and classification
data point detection / extraction / reconciliation
6. Reporting & Analysis
For agreement lifecycle management purposes an extended Template Repository Search (Clause Search) is offered for
searching for any expression within the clause template repository or signed contracts
searching for generated agreements based on a selected clause
searching for generated agreements based on selected (Sub-) documents / sections / clause configurations
clause versions and its usage in generated agreements
what if analysis – how many generated agreements would be affected by a clause update
Framesoft Data Insight (FDI) has also been integrated into the FCR client for these functionalities. Furthermore, FDI can be used for efficiently generating reports visualize the contents of feeds. FDI has also been enhanced by extending the drill-down and up functionalities now supporting multiple levels.
Get in contact with us for an online demonstration of the FCR integration and its exceptional possibilities.
Details
Zug, April 28, 2020: Framesoft Document Management (FDM) 5.2
The new version of Framesoft Document Management (FDM) 5.2 has been released.
Framesoft Document Management (FDM) is a software solution for global content and collaboration management integrated in the user's computer workspace.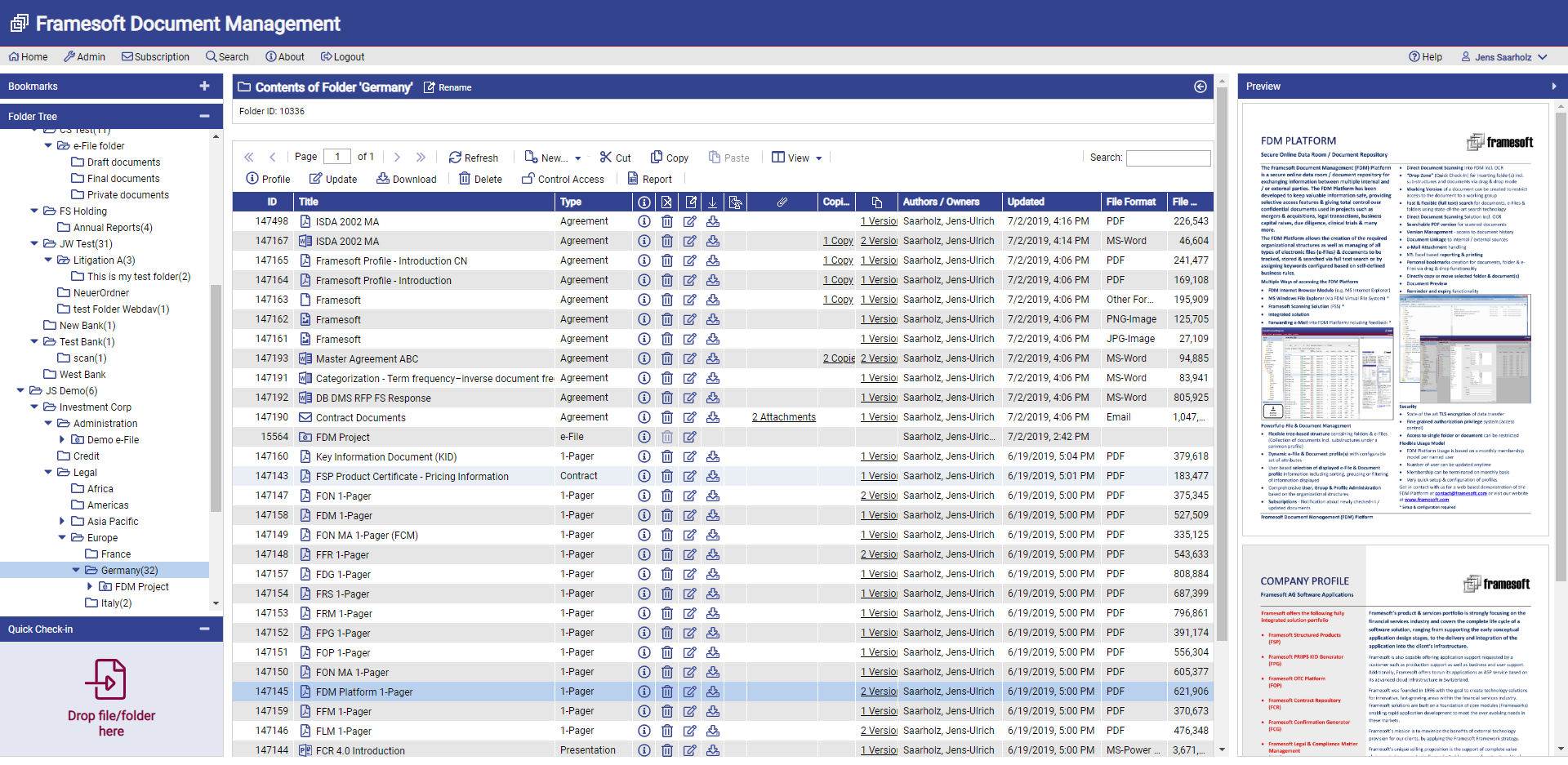 FDM 5.2 offers the following new and enhanced features:
Seamless FDM MS Outlook integration by storing e-Mails in FDM without leaving MS Outlook via FDM Tree integration in MS Outlook
Smart Filing - automatic filing of related e-Mail / document information such as e.g. Recipients, CC, Subject, Buzz Words, etc.
Fuzzy Search Support - search result is based on likely relevance even though search argument words and spellings may not exactly match
Extension of Framesoft Data Export Tool (FDE) (add-on)

Support of Document Type specific Profiles

Google Chrome Support

Android / iOS Support

Personal user specific inboxes

Further improvements of modern theme based user interface introduced with FDM 5.0

Framesoft Data Insight (FDI) Integration
Extension of Framesoft Contract Repository (FCR) Integration regarding the usage of Non-Standard terms in documents passed to FDM

Major Performance Optimizations

OCR Extensions

Library Upgrades

and many other enhancements
For more information regarding the Framesoft Document Management (FDM), please refer to the FDM Product information or the FDM 1-Pager below.
Details
Zug, April 24, 2020: Framesoft Confirmation Generator (FCG) Version 5.1 released
In today's highly volatile markets and increased counterparty risk, a mass volume, automatic platform supporting trading position reconciliations rapidly and reliably is absolutely mandatory. Matching and conflict resolution processes must be managed within a well-controlled workflow.
Framesoft's new version of the Confirmation Generator and Management System (FCG 5.1) stands ready to be quickly integrated into any bank's infrastructure, replacing manual processes and outdated legacy infrastructure for any type of trade confirmation.
It provides a highly automated and configurable process management system for the transparent and tightly managed verification of mutual obligations with all your counterparties.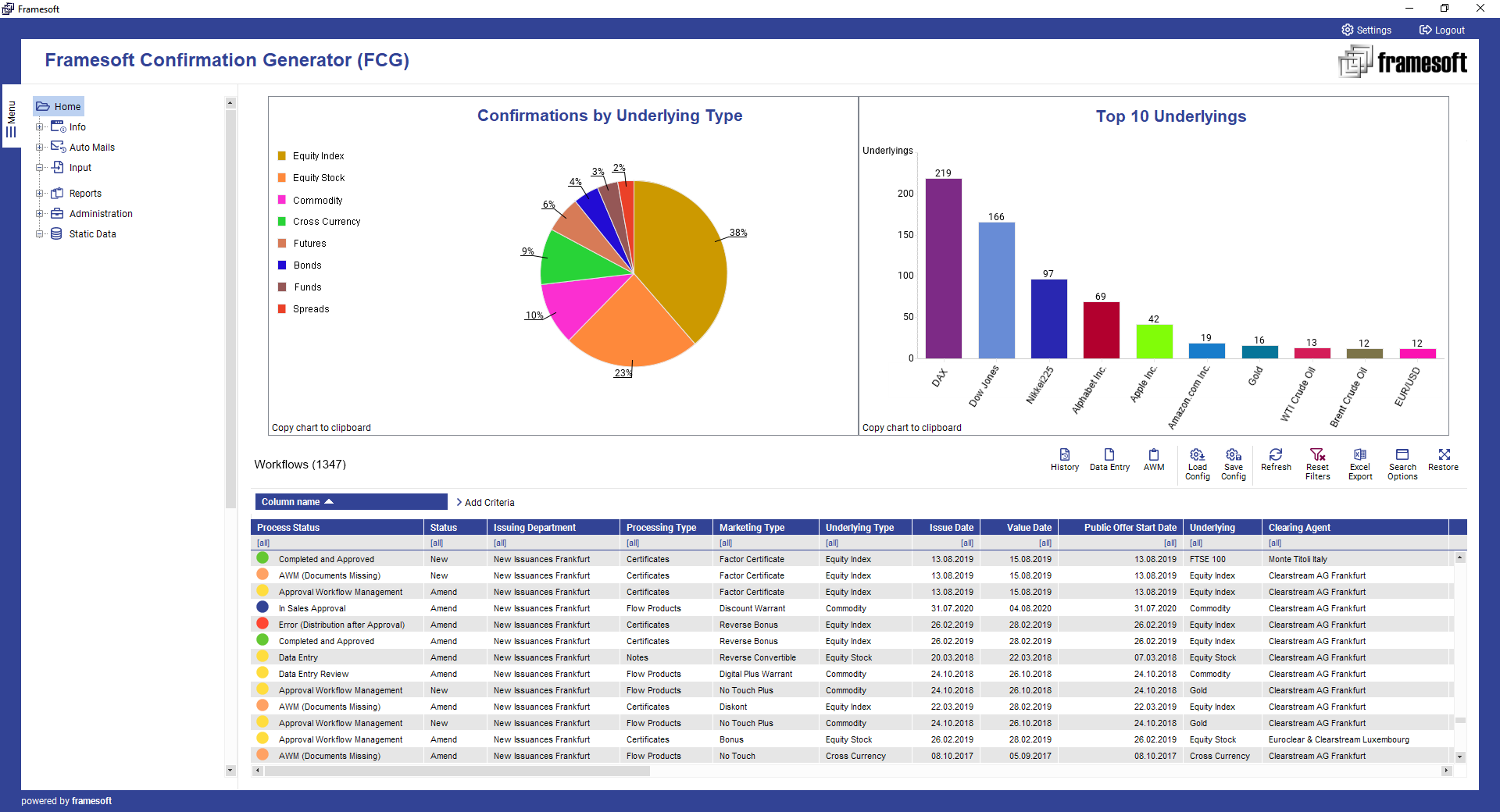 Framesoft Confirmation Generator (FCG) supports the complete business process of creation, management & distribution of legally binding short or long form trade confirmations and supporting documentation of any product type. Framesoft Confirmation Generator provides dramatically shortened time to produce confirmations & elimination of operational risks.
For more information regarding the Framesoft Confirmation Generator (FCG), please refer to the FCG Product information or the FCG 1-Pager below.
Details
Zug, April 3, 2020 Framesoft Contract Management Suite (FCM)
In the current climate of uncertainty and extraordinary rapid developments, it is vital to control potential impacts to Contractual Obligations and contracts in place.
Potential effects of a downgrade, the application of the Force Majeure clause, Legal Terms used in contracts which might impose a risk, managing exposures or implications of an insolvency need to be determined in real time.
The Framesoft Contract Management Suite (FCM) allows companies to gain control of all contracts and associated rights and obligations. Even external parties may be fully integrated in all relevant steps of the workflow associated with mission critical contracts.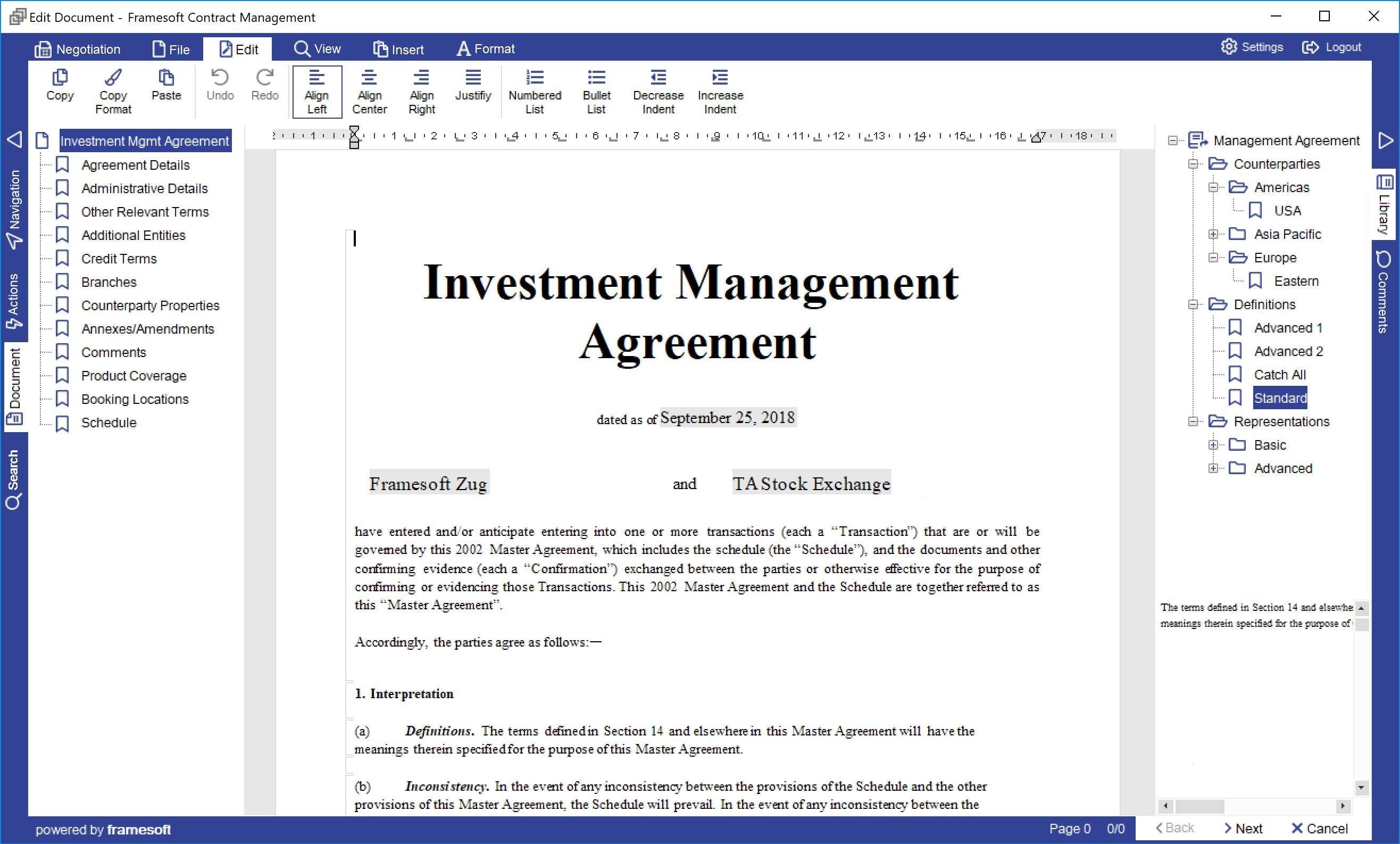 FCM provides immediate access and visibility into contracts to corporate professionals dealing with any kind of documentation across the enterprise. This results is an elimination of operational risks, acceleration of processes, instant management control and compliance with guidelines and regulatory requirements.
These advantages are derived from a fully integrated set of applications combined in the Framesoft Contract Management Suite, covering the complete lifecycle of any contract or other business document:
Workflow driven contract creation / request
Automatic Generation of first draft
Secure Contract Negotiation and Collaboration with your counterparties via Internet
Contract Lifecycle Management (e.g. Master Agreements and any kind of annexes (e.g. CSAs, CSDs), Amendments, Obligations & Commitments, Auditing, etc.)
Netting Analysis
Contract Analysis & Reporting (e.g. Clauses used in contracts, "What if" scenarios, etc.)
Document Filing, Archiving, Retrieval and Distribution
FCM consists of the following integrated solutions:
Get in contact with us for an online demonstration of FCM.
Details
Zug, April 1, 2020 Framesoft Document Management (FDM) on Demand
In current times, companies must make proactive decisions that help them protect employee health, keep critical work on track, and prepare for the potential of unplanned business disruption.
Many companies are revisiting policies, considering new technologies, restricting even business critical travel and have started working remotely.
No matter where employees are working, fast and secure access to their business files are required. Remote workers need to be able to create, share, and collaborate with their content when working remotely - often without a cumbersome VPN.
FDM on Demand provides a high load, secure data room and flexible collaboration platform for seamlessly and securely exchanging information between multiple parties regardless of location. Users can start working immediately and simply move all relevant files via drag and drop, persisting even folder structures in the data room in the process.
FDM on Demand can be made available for usage within hours and any number of users can be supported.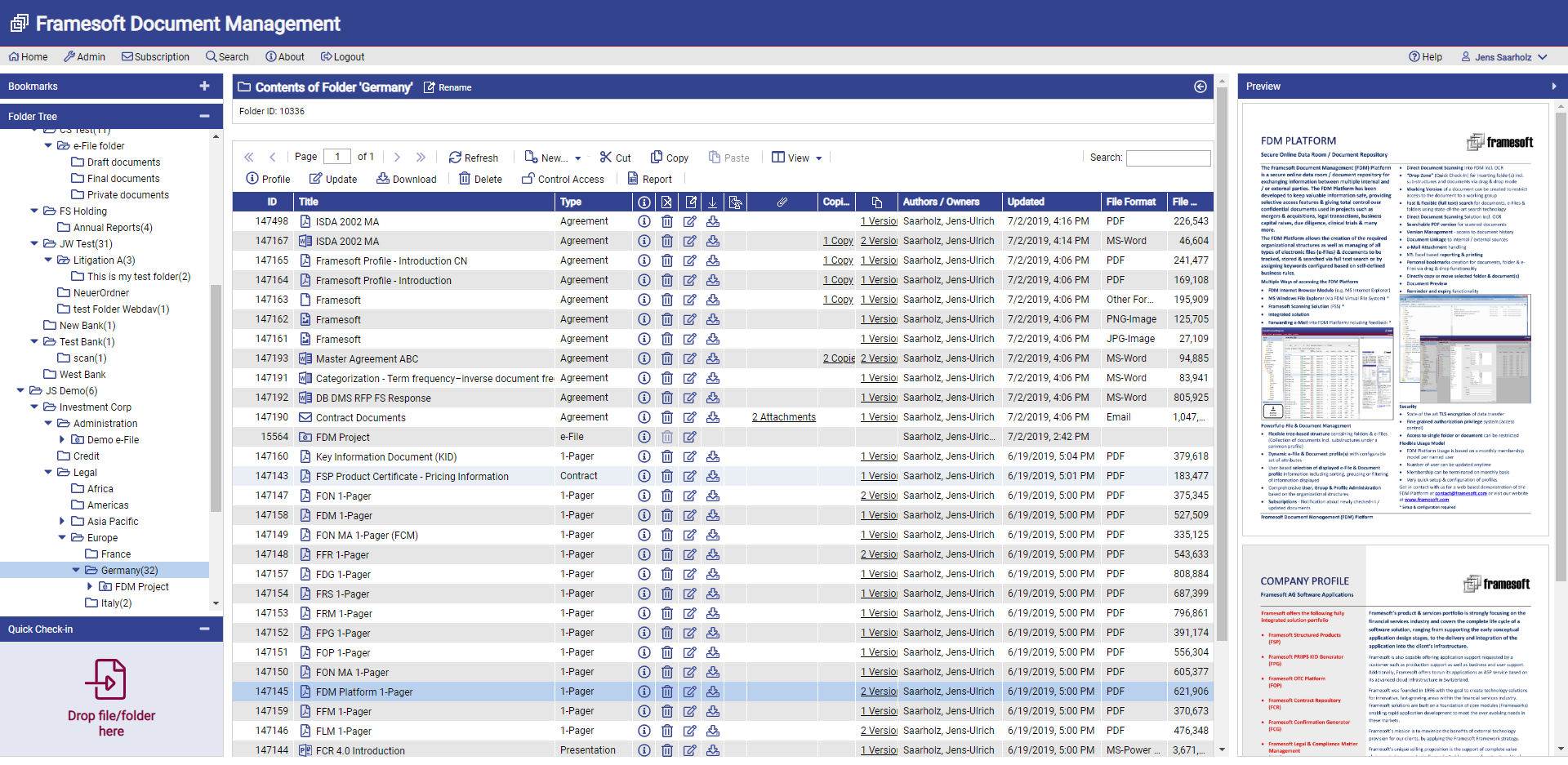 For more information refer to the FDM-Platform 1-Pager below.
Get in contact with us for a web based FDM Platform demonstration at This email address is being protected from spambots. You need JavaScript enabled to view it. or visit our website at www.framesoft.com.